A Latino CEO: Impacting Middle America
Janice Ellig, CEO and founder of Ellig Group, sits down with real leaders in this series of game-changing conversations, bespoke to fellow champions of change. Heralded by Bloomberg Businessweek as one of "The World's Most Influential Headhunters," Janice is often consulted for her expertise and commitment to gender parity, equity, inclusion, and diversity. We are honored to present this month's episode of Leadership Reimagined, "A Latino CEO: Impacting Middle America" with Darren Rebelez, President, Chief Executive Officer, and Director of Casey's. Join us in this month's game-changing conversation with Darren Rebelez, a graduate of the U.S. Military Academy at West Point, former Army Ranger, Gulf War veteran, and now one of less than 5% Latinx CEO's leading a Fortune 500 company! Casey's is a chain of convenience stores operating in the Midwestern and Southern states, holding the position as the third largest convenience retailer and fifth largest pizza chain in the U.S., where their brand platform is Casey's "Here For Good."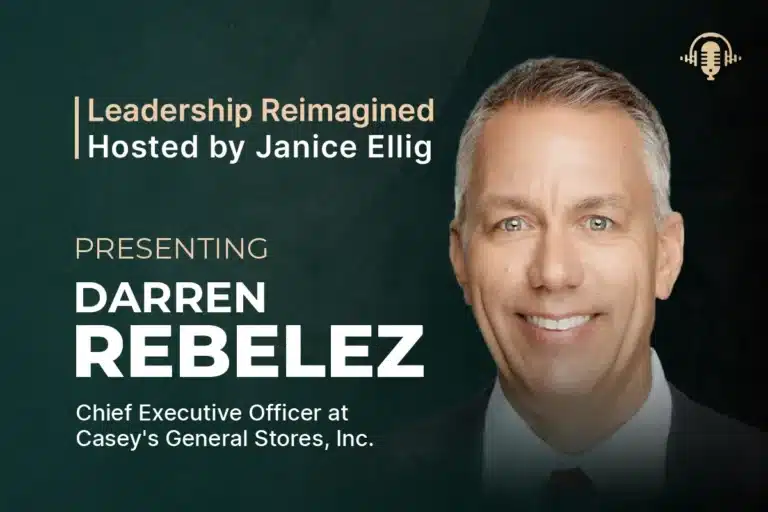 "We stand for something in our communities. We stand for good quality products and service. With a very rural footprint, in many cases, our store is the grocery store, it's the gas station, it's the pizza place, it's the coffee shop, it is important in the community, and we are really serving a need. We are here for good, and we are here for the long term." Prior to Casey's, he served as the President of IHOP Restaurants, Executive Vice President and Chief Operating Officer at 7-Eleven and prior to 7-Eleven, held numerous leadership roles at ExxonMobil and Thornton Oil Corporation. It is our privilege to present to you this episode of Leadership Reimagined "A Latino CEO: Impacting Middle America" with Darren Rebelez!
Leadership Reimagined is available on the following popular podcast stations:
Show Notes: Darren Rebelez
Darren Rebelez on learning the value of customer satisfaction from his grandfather
I learned a lot from my grandfather, who immigrated from Mexico and was an entrepreneur. He owned his own barber shop and was a barber his entire career. This was before there was social media, or even the internet. You really had to build your business by word of mouth in that situation. He had no option but to make sure every customer was completely satisfied every time – so really, not just satisfied, but happy enough that they would tell other people. He ran the shop until he was in his seventies, and then he finally retired. Even after that, he had people coming over to his house to get their hair cut in his kitchen because they just couldn't envision going anywhere else for a haircut. It taught me a lot about retail and how to take care of the customer. 
Darren Rebelez on learning leadership at West Point
West Point at its core is a leadership school. Everything you do there is put through the lens of leadership, and they prioritize teaching you how to lead people. That was where I learned what works and what doesn't. I also learned how to follow – that's another important part of the West Point system. In order to lead, you first have to know how to follow.
Growing up, there was an expectation that I would go to college, but because I was the first one in the family, we didn't really have good resources for that or really have an understanding of how that would work. My plan had been to try to get a scholarship if I could, or if I didn't succeed in that, then I would enlist in the Marines and serve in the Marines for a few years and do the G.I. Bill and then work my way through school that way. But the "aha!" moment was when I was in high school walking through a college fair with my dad. West Point had a booth set up, and he encouraged me to go talk to them and learn more, as I had never heard of West Point at the time. The officer at the booth explained to me how it worked: it was a full scholarship, and you served in the army afterwards, which sounded a lot like my plan B. I got really excited about that and went through the process and was fortunate enough to get in. But as I reflect back on my life, that was probably one of the bigger inflection points in terms of what direction I might have gone.
Darren Rebelez on listening to employees
My very first job was as a dishwasher in a restaurant. It was a great experience for me, being in high school. I learned the value of hard work, which seems to be a recurring theme in my life. Having washed dishes for several years, I've really learned an empathy and an appreciation for everyone who does work, regardless of what that work is, because it takes everybody to make a business successful. And I think sometimes some of the workers that do the manual labor get overlooked. That's unfortunate, because they're the ones that really make all of our businesses go, so I've become very comfortable speaking with our front-line workers. Some of the most fun I have is when I go to our stores and get in our kitchens and talk with the people preparing our pizza. It was the same when I was at IHOP. I find that speaking with the workers in our kitchens, I learn more about what's working and what's not working in our business than I do from any time spent in the office holding meetings and reading reports. The employees on the front line are the people who really know what's going right and what's going wrong, so their input is absolutely crucial when it comes to improving customer experience. 
Darren Rebelez on handling COVID at Casey's
It was a tricky moment in time. I took over as CEO in the middle of 2019, and we started to put our team together and build out our strategic plan in January of 2020, right before the lockdowns took place. We had an investor day out at the NASDAQ in New York, where we presented our three-year plan, which was very well received by the investment community. And six weeks later we were sending everybody home and we were locked down. 
The first thing we did to adjust was really focus on the safety of our people and the security of the company. We were an essential service, so we didn't have the option of completely shutting down. We had to figure out how to operate safely in this environment. That was one of the times where my experience in the military really helped out – from there, I already knew what it was like to work under difficult operating conditions. In the military, operational difficulties aren't excuses for not doing the job, they're just conditions that you have to adjust to. Shutting down is not an option, so you need to find a solution to operate in spite of those obstacles. It was really important that we kept our stores open and operating because we have a very rural footprint –  over 50% of our stores are in towns of 5000 people or less. In many cases, our store is the grocery store, the gas station, the pizza place, and the coffee shop all in one; there's no other option in town. We often serve multiple crucial roles in a given community. So we focused on that first. I got the executive team together, and we sat down with the strategies we'd already settled on and said, "okay, we just got through working on this, let's do a gut check here and make sure that this strategy still holds together under these conditions. And if it doesn't, what do we need to do to pivot?" 
On a big-picture level, the things we had to do strategically to grow and improve the business were still the same. We had to reprioritize some things, and on the digital side, we moved some things forward that we had planned to introduce further along on our original roadmap. A good example of that is curbside pickup. That was something we planned to enable a few years down the road. But in 2019, it wasn't something our customers urgently needed. And all of a sudden, COVID hit, and curbside pickup was something we needed right away. We made it a priority, and within 60 days, we had curbside pickup launched at all 2400 of our stores. We enabled third-party delivery, we rolled out a rewards program. These measures were all consistent with our existing strategy, but we needed to expedite them, so we did. Fortunately for us, our team has been fantastic. In spite of working virtually and in difficult conditions, we've been able to execute our strategy, and we've had a lot of success over the last couple of years as a result of that.
Darren Rebelez on growth opportunities for Casey's
The way we look at growth is through the lens of organic growth and what we call reinventing our guest experience. That's doing everything from enhancing our digital capabilities in our stores, to driving our prepared foods innovation, to coming up with unique and creative items and expanding our private label assortment. That's something that we didn't really have much of prior, and now penetration of private label products in our stores is around 5% and growing every day. These measures are all about making our existing store base more productive. 
The second pillar of our strategy was to create capacity to invest in the business by capturing efficiencies. And a good example of that was we set up a centralized procurement team that allows us to be more effective in our procurement and purchasing. We've had a lot of success with that, particularly in this environment, where we're supply chain challenged. That team has done great work to free up capacity for us. 
The third pillar of our growth is to expand the store base. We do that both through acquisition and through new-to-industry store builds that we build ourselves. When I look at the white space for our growth from a store count perspective, I think of it this way: we're in 16 states, primarily in the midwest, but 2000 of our 2400 stores are in only nine of those states. The other seven states represent a lot of opportunity. There are 150,000 convenience stores in the US. About 90,000 of those stores are held in chains of ten stores or less. It's becoming very difficult for operators without scale to compete in this environment. So we're finding a lot of acquisition opportunities. We've done a number of deals, and we have a dedicated team focused on looking for more. So again, we think there's a tremendous room for us to grow for a long time. 
Darren Rebelez on Casey's stores as community hubs in small-town America
We see ourselves as providing an essential service to communities in Middle America,] and that vision came from our founder, Don Lamberti, who got started by leasing a store from his father. He started with one store back in the late fifties, and it did so well that he went to the next small town down the road and built another one. That store did really well, so he built another one. Don's a very humble guy, he's still around, and he still tells that story that he just built it one store at a time, one town at a time. These towns have traditionally been underserved, so the Casey's store really does show up as a hub in the community, and people will refer to it as their store, their Casey's. 
Darren Rebelez on Caseys' response to rising gas prices
Nobody likes high gas prices. I think there's a perception that the retailers make more money when the price is high and less when the price is low, and that's just not the way it works. We tend to make about the same amount of money regardless of the price, other than that it's more expensive when prices are high, and we pay more in credit card fees and that sort of thing. So we really don't like high prices either. It hasn't impacted our business much. We're still seeing good demand. There is a point at which that will start to erode a bit, and we think that's probably a little bit closer to $5 a gallon than $4 a gallon. 
Darren Rebelez on Casey's plans for adding electric vehicle charging stations
It's going to be an evolution, not a revolution. It's going to take a long time for our entire fleet to migrate over to electric vehicles for a lot of reasons. But if you think about that experience of charging the vehicle, it takes about a half hour to get a full charge. That presents a challenge: what do you do for that half an hour while your vehicle is charging versus the five minutes it takes you to fill up your gas tank today? With our prepared foods business and our digital capabilities, we think we're in a really good position because our stores are already located on commuter routes where people are already driving. And regardless of the type of fuel the vehicle takes, they'll still need to go to the same places that they did before. Even today, you can order food from a Casey's store online. We'll bring it out to your car while you're charging your vehicle. Today we have about 25 stores that already have charging stations, and we're learning from that. We'll probably double that number over the next year or so, and we'll continue to evolve. But it's still very early in terms of mass adoption of electric vehicles, and for the Midwest, it's probably earlier than the East Coast or West Coast. Our geography has the lowest electric vehicle penetration in the country, so it's going to take some time.
Darren Rebelez on his approach to hiring and team building
The way I like to lead is through teams. I'm a big believer that leading with teams and having great teamwork is critical for the success of any business. I think that just comes from getting different points of view and leveraging the collective wisdom of the team to solve challenges. In this environment, every day is a challenge, so more brains in the game is better than less. And what I look for in hiring is people that can play well on teams. You have to show up here with a team first attitude. That requires people who are authentic and transparent – they are who they are. Not a lot of hidden agendas. High integrity is very important to me. And low ego, our tolerance for ego is very low around here. In my experience, when you get those authentic people with high integrity and low ego, they tend to be great team players who are fun to be around. So that approach is effective not only from a business standpoint, but also in terms of building a more enjoyable work environment and culture.
Darren Rebelez's advice for other members of underrepresented groups who aspire to the C-suite
The first thing I tell people is that it starts with ourselves, and you have to do the work. I think it's important as you move through your career, to take ownership of your own development. That doesn't mean you can't get help along the way, but it does mean that you can't wait for somebody else to tap you on the shoulder and try to develop you. You have to take on that responsibility yourself and make that happen. I think taking on challenging assignments that stretch you and force you to grow is really important, and of course, you have to perform.
The second really important thing is building a network. A lot of times, the best opportunities come from relationships. I'll just give you a quick example of how I got onto the Global Life board. I had met a person who has become a friend of mine, who was involved in the National Association of Corporate Directors, and he also knew of a magazine that featured Latino executives. They featured me in one of their editions. When my friend was at an NACD meeting in North Texas, he ran into the chair of the audit committee for Global Life, and it came up in conversation that they were looking for a new director. When he described the qualifications they were looking for, those happened to line up with my qualifications. They reached out to me, and I went through the process and was selected. That scenario plays itself out a lot more than people realize. Having a network spread your story and your interests is very important.
I think the last thing people need to recognize, particularly regarding the CEO job, is that it is very competitive to get into one of these roles. It's not a matter of being good enough – you have to be better than the other candidates that are out there. It's important to recognize that boards tend to be risk averse. So as you're developing your skill set and developing your knowledge base and preparing for a C suite job, the more you can demonstrate that you have the skill set and capability, and that you don't pose a risk for the group making the hiring decision, the more successful you're going to be.
Darren Rebelez's advice to other CEOs looking to achieve gender parity
Gender parity is important to me because it just makes sense. Going back to my approach with leadership and teams, I think having groups of diverse people just leads to better outcomes. I think that's been well documented. In terms of specific advice for other CEOs or boards, I don't think it's any more complicated than knowing what it is you're looking for, for board candidates in particular, upfront before you start looking at candidates. I think sometimes our boards tend to look at the candidate first and then try to backfit that individual into what they might need. But if you look at the qualifications first, that leads you to a certain slate. You have to insist on a diverse slate of candidates, and not just a slate to check a box, but a diverse slate of qualified candidates. Sometimes that's a little bit more work to do. But I have yet to find a situation in which we've demanded a diverse slate of qualified candidates and not gotten one. At that point, it's just a matter of picking the best candidate for the job. In my experience, when you start with a diverse slate, you end up with diverse people being best candidates a good portion of the time. Keep doing that, and you'll end up with gender parity and ethnic diversity on your board. 
Darren Rebelez on the value of diversity in the C-suite and boardroom
Our guests come from all walks of life because everybody needs the products and services we sell. So it's really important for us to have those different perspectives represented in our leadership. The business world is so complex now, and the problems are not easy to solve. Having different opinions and different points of view in the room just helps us to solve some of those challenges that all of us are facing. 
Darren Rebelez on Casey's mission to make life better for guests and communities
We communicate to all of our team members that we're here for good. That's a little bit of a play on words, but what it means is that we stand for something in our communities. We stand for good quality products and service. Our team members in our stores make many of the prepared food products themselves as well as being the ones to deliver that service. So it's important that they live up to that motto. We do good in the communities that we serve, and in these small towns and rural communities, the team members in our stores know the guests that come in regularly. They're part of that community. Their kids go to school with our team members' kids. They go to the same churches. They know each other, so they want to show up positively. Our store teams do a fantastic job of helping the communities, especially in times of need. 
"We're here for good" also means we're here for the long term. In a number of rural communities, people have started to migrate towards the cities, and a lot of businesses will pull up and leave, and we haven't done that. We've stayed there to support the communities. It's been really important for us to play that role.