Janice Ellig, CEO and founder of Ellig Group, sits down with real leaders in this series of game-changing conversations, bespoke to fellow champions of change. Heralded by Bloomberg Businessweek as one of "The World's Most Influential Headhunters," Janice is often consulted for her expertise and commitment to gender parity, equity, inclusion, and diversity.
We are honored to present this month's episode of Leadership Reimagined, "The Philanthropic Executive: Making Good While Doing Good" with Truett Tate, advisor, founder, CEO, Board Chairman, avid philanthropist, and Champion of DE&I. Truett Tate has had a distinguished and global career spanning five decades in predominantly banking and finance in highly regulated international environments.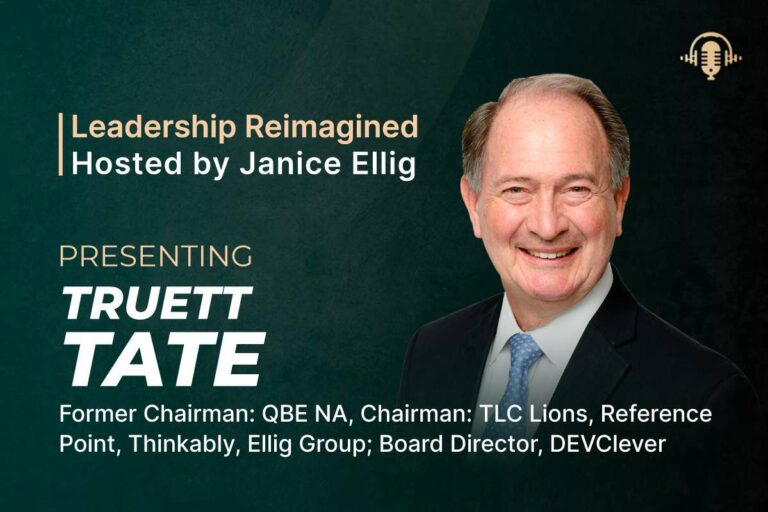 Truett is former Chairman of the QBE NA Board, currently Chairs the boards of TLC Lions, Reference Point, Thinkably, Ellig Group and is board director of DEVClever. He retired from his last Executive position (CEO of ANZ USA, Europe, Japan, Korea and the Middle East), and continues to build on his unwavering commitment to giving back through nonprofit board service, donating his time, mentorship and inspiring all through his generosity of spirit.
It is our privilege to share this episode of Leadership Reimagined with Truett Tate!
Leadership Reimagined is available on the following popular podcast stations:
Truett Tate on the origins of his philanthropic spirit
The heart of it goes back to my youth, being born in the Midwest. Coming out of the military after the war, my father had a law degree, but he was an Amana salesman. My mom was a teacher. We lived a pretty simple life, a full one, a happy one, but pretty simple. And jumping to when my parents were divorced and I lived in Arizona, it got even simpler. We lived in one of those right-out-of-the-movies, U-shaped, two-story motel apartments, not wanting for anything, but I was 22 before I ever had a bedroom of my own. So, again,kind of a classic Midwestern family. With that background, my dream was not to be a scientist, not to be a lawyer, a doctor, but to see the world. And the next chunk of life prepared me for a pivotal time between 2000 and 2010. That was the adventure with Citibank, living around the world – Mexico, Brazil, Hong Kong. I was confronted with the favelas of Rio, the Kowloon Walled City in China, the Congo, the boat people of Hong Kong, and then I "graduated" to an OECD country and city like London, only to find that in the East End there were neighborhoods as poor as anything that I had seen in those emerging market countries. All that was a journey of awareness. I contributed. I cared about giving back, but the epiphany I really needed occurred in London when I was exposed to the man then known as Prince Charles. I am an avid fan of Charles and what he did. Almost 50 years of commitment to increasing the world's awareness about climate change and the threats it presents, being a champion of the displaced, the disenfranchised poor, youth, investing in a new generation of leaders and champions, he created. Coming right out of the Navy, he gave his entire severance to charities and began what was called the Prince's Trust, which has nearly 50 years of contributions to society. In 1982, he created the nonprofit Business in the Community. This was pivotal to me. I joined the board of Business in the Community. I ended up being the Chair of Corporate Volunteering, ended up creating Give and Gain Day, ended up serving on several of the trust's boards, e.g. In Kind Direct. What dawned on me is that I could, through my role as a corporate executive, impact those areas much more than I could simply as an individual leveraging personal wealth.
Truett Tate on the charities he chooses to support
One of the ones I've been very directly involved with is People Loving People, which is very, very local. It's a food pantry, created in the heart of the pandemic. And because of a shift in terms of my own time, I was able to work there two or three times a week. I was able to manage traffic. It was this wonderful, humbling experience that for all of my chairman positions, at the end of the day, I was greeting people minute by minute, praying with them in the car and helping stack their trunks with food.
But much of what I do is driven by supporting my wife, who's extraordinary. In 2010 Holy Trinity Brompton introduced us to IJM – International Justice Mission – and the plight of the world in terms of slavery, in terms of human trafficking. My wife is on the boards of Restore and Freedom from Fistula, and these are important to us as a couple. My role in these is supporting her so that she can do the leading in those areas.
Another important thing to note here is that corporations and corporate leaders are increasingly caring that the companies that they lead have a soul, have character, have a sense of values and a commitment to giving back. So, for instance, I chair Reference Point. Scott Goeden is the CEO there. It's a terrific, very successful management consulting firm that specializes in the financial services sector. Scott commits a huge amount of time and energy to Africa New Day, looking at the incredible humanitarian crisis in the Congo. And it's not a matter of just sending money overseas. He goes on site, he puts himself at risk. He spends considerable time there. That's part of leading from the front, demonstrating to the staff that you care and in that sense, inspiring others.
TLC Lions is a firm that is all about corporate culture and all about seeing that the culture that is there on a mousepad becomes real and tangible, that people believe in it. And I do believe the next generation wants to work for companies that believe in something, that really do have a soul. TLC works with leadership to tell their stories in a way that brings the values and behaviors alive in the company, and that make the messaging about culture credible. We talk about being authentic. Part of being authentic is to be able to tell your story, warts and all, demonstrate your vulnerability and demonstrate that you're human, that you care.
I'm a big fan of Alexys Thompson's concept of the "graceful leader," the compassionate leader. This is a big change from the kind of hard capitalist leader that we all adored 20 or 30 years ago.
Truett Tate on TLC Lions' Being Human Awards
TLC Lions has just completed a process of identifying the kindest – that is, the most human – leaders in the UK. And there's a dinner on February 9, but the proceeds from that dinner will all go back into charity, specifically a missing persons charity that was motivated by the founder's loss of his own father. And you get to a neat wrinkle there. I'm a big proponent that corporations should invest a lot in matching funds as opposed to big bulk contributions, because by matching funds, the corporation signals, "what matters to you matters to us."
It's called the Being Human Awards, and I believe there are roughly 20 awardees among the various categories, coming from leading companies across the UK. The nominations are made by the staff of the companies saying, "this is a leader who cares," and I think it's great to have a campaign that celebrates that instead of bottom line P&L. I actually had a meeting this morning at Reference Point, where the head of HR was talking about the fact that she's loyal to the company because she's loyal to a leader who demonstrates care for her and what happens to her.
Truett Tate on the qualities of effective leaders
I think that the ability to listen is more important to leadership than many people believe. Obviously there's having a vision, being a good communicator, but those things actually are best when both the vision and the communication of that vision come from a place of understanding what the people want and need – not just what the client wants and needs, but also what the staff wants and needs. You and I have talked about the misconception that there is training that can make someone ready to be a board member. I think the requirement that someone have board experience to be a great board director has been emphasized wrongly. There are so many important characteristics in terms of how people listen, how they inspire. They need to be disciplined, they need to be self-starters. The mechanics of board directorship, I think, can be taught. And I'm in awe of what Ellig Group has created in its Board Readiness Coaching Program. This is not a one-day or two-day event. There needs to be an investment not only in the knowledge that someone has, but in learning how to present themselves, how to understand their own strengths, how to identify a fit between who they are and what they stand for and what a company stands for. And it's complex, but it's something that you can invest in an individual and dramatically increase their readiness and their value to a company in a board position.
Truett Tate on increasing the pool of board candidates
I think many CEOs, many leaders of the company need to invest in two ways to increase the pool of board candidates. One, I think they need to allow up-and-coming candidates to have board experiences. It's an investment into the system, but it's also an investment into society. And it's a little like allyship and sponsorship. We need more bold people who don't wait to be asked to be a mentor, but instead identify folks who have the potential and reach out and put their own credibility behind championing those people's advancement.
Truett Tate on the origins of his commitment to DEI
My mother, as I mentioned before, was a teacher. She's probably been the greatest inspiration of my life. She ended up getting a doctorate and became a principal and then a superintendent of schools. And then my mom and dad divorced. We went to Arizona. The misogynist school system there would not hire her in any position other than a guidance counselor. And what I witnessed was that with no acrimony, no malice, mom ultimately replaced that principal who wouldn't let her use the doctorate on her nameplate. She became the principal, and she ultimately became the superintendent of schools there in Arizona as well. She did it not with an A profile but with a beautiful heart. She was a very bright woman who was able to be gentle and compassionate. And I watched as, against the odds, she got knocked down in the middle of her life and built it back. No rancor, just love.
That's what inspires me when I sponsor people. It's not out of pity, but out of the fact that I know they can do it. I've seen the success that can be there just by the encouragement and the support and the inspiration. I love that it's becoming institutionalized through what Ellig Group is doing with the Board Readiness Program.
Truett Tate on parenting and family
I love this concept of focusing more on our children, teaching them how to have a voice, which means as a parent, making sure you ask for their view. You give them opportunities to articulate their thoughts and you encourage them to do so. Everyone ends up being inspired. That investment, in terms of the leader that listens and the leader that communicates well, starts when they're five and three and ten. They're taught by learning how to hold hands at a meal and, and say a prayer together. And it's and it's not a repeated one that everyone says together, but encouraging the child to think hard about what they're thankful for.
In many ways, it goes back to the beginning of our conversation. It was a journey for me, but one that there's a lot of investment starting when you're young, to get to that point. It seems to me you're saying that to be a leader in any capacity, one has to give back, right? To build, make good, but do good to their employees, to their consumers, to their communities, to their investors. You have to balance that. Seems like you found the time because it was really important to you to do this and impact other people's lives. Do you think since the Pandemic it's going to change the way leaders lead going forward? That's a really interesting question.
Truett Tate on whether the Pandemic will change the future of leadership
The temptation is quickly to kind of go for a simple yes, but I think the jury is out to a certain degree. I think that the Pandemic was a very important break. We're certainly going to change more than we would have without the Pandemic, because it disrupted the inertia, the momentum of doing things the way we've always done them. Companies are wrestling with the back to office debate and I don't think there's one answer, and I don't think that there's an answer we can see clearly now. But what is happening is that CEOs, leaders of companies are understanding that the only way we thought people could build community and culture isn't necessarily the case anymore. Technology, the way relationships are formed by the younger generations, they've changed. CEOs need to listen to that, and we're going to need to pace an evolution towards a new way to work. And it is going to be a way that has more soul, more caring.
Truett Tate on the future of capitalism
I'm a huge capitalism fan, but the fact is the way it's been implemented in the last couple of decades has not given the right distribution of success and wealth. It has created divisions that we're only going to heal by adjusting that vision of just capitalism.
Truett Tate's parting advice
First of all, a call for everyone to be open. Open in the sense of open to hear, open to appreciate, open to learn. You've got to be open to the miracles that are out there. You have to be open to see all the good, to see all the opportunity. We've talked a lot about about encouraging and sponsoring people. The encouragement has to start with being able to see the potential in the individual.
The second thing is: invest – see everything as an investment, but invest in the youth. There are problems today that we, the older generation, are not going to solve. But the next generations can, if they have the right tools and the right encouragement.