Janice Ellig, CEO and founder of Ellig Group, sits down with real leaders in this series of game-changing conversations bespoke to fellow champions of change. Heralded by Bloomberg Businessweek as one of "The World's Most Influential Headhunters," Janice is often consulted for her expertise and commitment to gender parity, equity, inclusion, and diversity.
We are honored to present this month's episode of Leadership Reimagined, "A CEO's Commitment: Thriving Communities Drive Corporate Success," featuring Tim Spence, President, CEO, and Director of Fifth Third Bancorp.
Tim believes that "banks are only as strong as their customers and the communities where they operate." Fifth Third not only fulfilled its ambitious five-year community commitment made in 2016 but also surpassed its $32 billion goal with an astounding $41 billion in lending and investments, thereby making a profound impact on marginalized black and brown communities and their neighborhoods that have long been shut out or left behind over the course of many decades. Tim personally demonstrates this belief through his service to various higher education and economic development organizations in Ohio and beyond. Tim is a founding member of Fifth Third's Enterprise Diversity Leadership Council and serves as the executive sponsor of the African American Business Resource Group.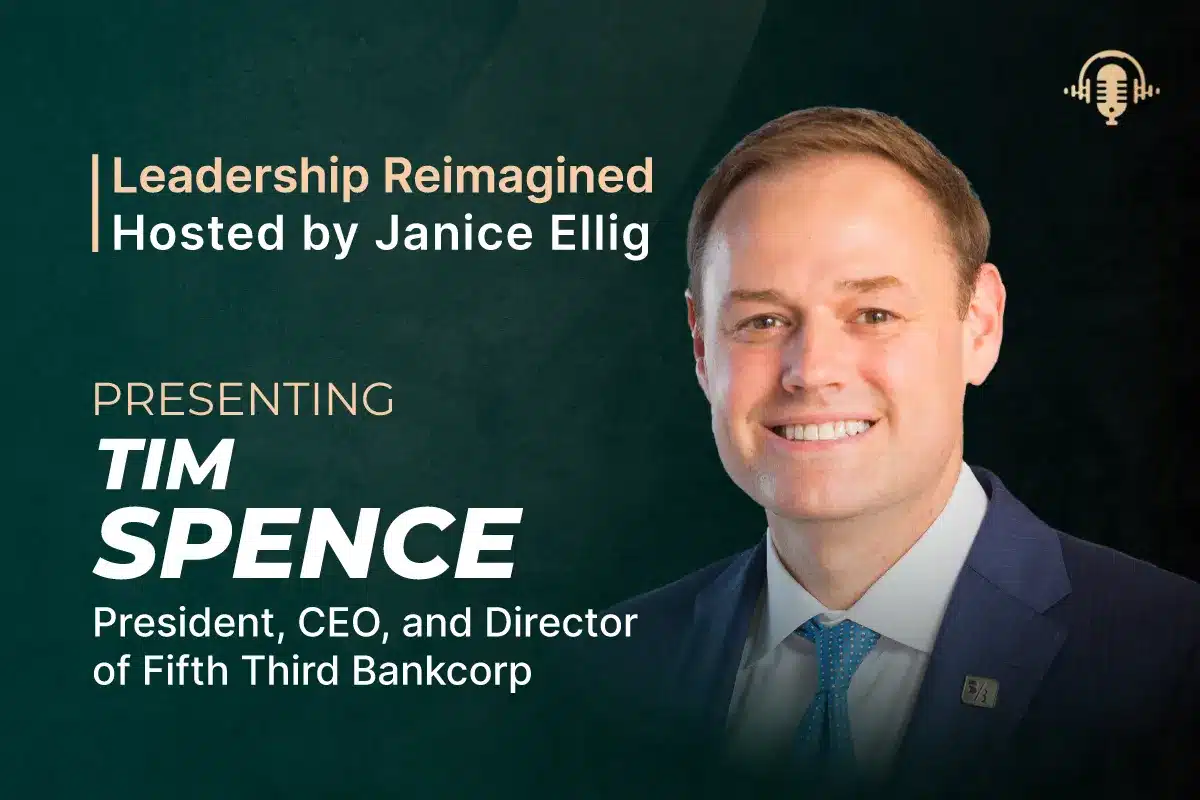 Tim joined Fifth Third in 2015 as Chief Strategy Officer and was named president in 2020, responsible for the Consumer Bank. Prior to joining Fifth Third, Tim was a senior partner in the financial services practice at Oliver Wyman. Recognized for his innovative vision for significantly advancing Fifth Third's digital transformation, he was named Digital Banker of the Year in 2018. Learn about the many firsts in Fifth Thirds' 160-year history and how this CEO is driving more firsts.
Enjoy this insightful episode of Leadership Reimagined with Tim Spence, President, CEO, and Director of Fifth Third Bancorp!
Leadership Reimagined is available on the following popular podcast stations:
Lorraine Hariton, President, CEO & Director of Catalyst
Catalyst, as an organization, has evolved over many years starting in 1962 when our founder Felice Schwartz started Catalyst. She was looking at how she, a college-educated woman, after putting her children in school, could go into the business world. And of course, the world that she faced was very different than today. There were very limited options for women. She was looking at how women could have part-time roles. But over the years Catalyst evolved. It started out helping individual women advance in the workplace and then we moved to really focus on how do we create an environment, a workplace that really can work for women, which is really our focus now. Today we partner with over 500 multinational companies, about 40 of them are CEOs of Fortune 500 companies, who are currently on my board. And we do three things: We provide research around what it takes to build workplaces that work for women; we provide learning products and tools that help companies advance women in the workplace; And then we have a very broad community. We bring them together around events and learning from each other. We focus on a number of different areas, on how to create inclusive workplaces, we focus on how to engage men in the prospect of doing that. We look at the future of work, we look at intersectionality and the different aspects of your identity and how it affects you. And of course, all the different levels in the organization.