Purposeful Leadership Takes Flight
Janice Ellig, CEO and founder of Ellig Group, sits down with real leaders in this series of game-changing conversations, bespoke to fellow champions of change. Heralded by Bloomberg Businessweek as one of "The World's Most Influential Headhunters," Janice is often consulted for her expertise and commitment to gender parity, equity, inclusion, and diversity. We are honored to present this month's episode of Leadership Reimagined, "Purposeful Leadership Takes Flight" with Ted Christie, President, Chief Executive Officer, and board director of Spirit Airlines. Having dedicated much of his career to aviation, Ted joined Spirit in 2012 as Chief Financial Officer, and was named CEO in 2019. Following a tumultuous year, Ted speaks about his team's response with pride "I am happy to say that the culture was reinforced, iron sharpens iron here. You see one of two things happen: people either wilt or they stand up and say, 'this is my group, these are my people, this is my company, and I am going to do something about this.' Thankfully we were in that group of people." Tune in and understand why his hands on leadership style has led to Spirit being named as one of the "World's Most Admired Companies," by Fortune, making Spirit one of only eight airlines worldwide and three airlines in the U.S. to be included on this list.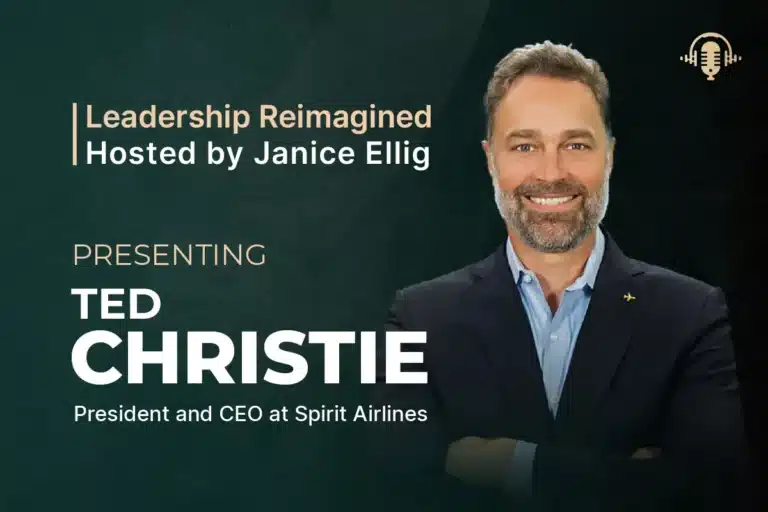 Prior to joining Spirit, Ted served as Chief Financial Officer of Pinnacle Airlines Corporation, and previous to that Ted began his airline career at Frontier Airlines in 2002, where he helped the carrier restructure and achieve a competitive cost structure. Through its charitable foundation, Spirit supports Embry-Riddle scholarships for women and other underrepresented groups in aviation, where its goal is to inspire more women to get into the field of aviation, aeronautics, and STEM. It is our privilege we present to you this episode of Leadership Reimagined "Purposeful Leadership Takes Flight" with Ted Christie!
Leadership Reimagined is available on the following popular podcast stations:
Ted Christie on his decision to take over as CEO of Spirit Airlines
It actually stretches back to when I decided to join Spirit in 2012. I had been in the aviation industry for the better part of a decade and was evaluating my next step. I saw the opportunity that Spirit had for its team members, but more importantly, for the traveling public. And it was very much at the infancy stages. After evaluating it, I said, "that's the place where I want to be. I think this is a business that can actually change the way aviation is perceived and received in the United States. And so I intentionally decided to rejoin and be part of that. And then, as I moved through my career and was afforded the opportunity to talk to the board about possibly taking over, I again looked at what we had available to us and what was in front of us, and I knew we had the right group to take the airline to the next level. So it was very much an intentional decision to help Spirit – and in a lot of ways, to help myself – get better over the next decade or more. 
Ted Christie on why Spirit is the airline of choice for leisure travelers
It starts with price. Not surprisingly, among leisure travelers, the vast majority, upwards of 80%, look for price first. They sort by price on their online travel agency. They filter by price based on where they're going. And Spirit does that better than anyone else. We start with a very low cost structure, which is important when you have a price sensitive model. And then we go into markets that were previously dominated by high cost, high fare airlines, and we lower the fare, which gives us a great opportunity to reach new people. The trick here is to deliver low-fare service with high quality. I think that's how we then transition into being a true carrier of choice. We can always give you the option to have low-fare opportunities. But when we do it with a high-quality operation. With friendly service and with options that people like to buy, that's how we become people's carrier of choice. And I think we're well on our way there. 
Ted Christie on guiding Spirit Airlines through the COVID Pandemic
In my career, I've been through a number of the kind of unexpected events we refer to as black swan events in the aviation industry. I joined just after 9/11, which at the time was catastrophic for the domestic aviation industry. And then we had high oil prices spiking in the mid 2000s; we had the great financial crisis as well. All those things had an outsized impact on aviation. This last year and a half makes all of those pale by comparison. This has been a unique challenge: a total collapse in demand, not just in leisure traffic, but in all segments: corporate traffic, visiting friends and relatives. Everything went away when the Pandemic hit us in the spring of 2020, so we had to make a number of moves, decisions and actions quickly in order to ensure the long-term viability of our business. It started with the network, as you said. We pulled quite a number of flights quickly, which can be challenging for a logistics business, but we navigated that better than most. And then we kicked off a big fundraising exercise where we wanted to bolster the balance sheet of the business to ensure we had adequate liquidity to deal with the downturn. We raised over $2 billion over the course of about six months through many different vehicles, equity and debt. And we also received some government assistance as part of the CARES Act. Then it was about engagement with the team: letting them know what was happening with our company, how we were adapting to it, saving their jobs, doing the right thing together as a group to keep everyone engaged. And we did that again very well. We were able to navigate the deepest part of the downturn without furloughing a single pilot or a single flight attendant. And they all banded together as a group, finding ways to make that happen. Now that we've come out the other side of that, I'm unbelievably humbled and proud about what everyone did to navigate this unprecedented crisis and make Spirit a stronger competitor on the way out. 
Ted Christie on maintaining a strong culture at Spirit through the Pandemic
Staffing is always an issue for every company, and that's particularly true for airlines. You're going 24/7. How are you able to do that with your leadership team? Well, the culture, I'm happy to say, was reinforced. Oftentimes iron hardens iron here. And so you go through something like COVID, and you can see one of two things happen. People either wilt and wash out, or they stand up and say, "this is my group, these are my people, this is my company and I'm going to do something about this." And thankfully, we were in that group. People really did circle around each other and say, what are we going to do to make sure that we're ready for this? What are we going to do to take care of each other? Because we're at the forefront of a safety crisis with an ongoing pandemic. And then we had a job security concern and an existential crisis about the aviation industry and all those things. And my group just banded together, and I think our leadership team was representative of that. We're a very collaborative group, and I rely on this group heavily every day. And they were there, ready to go, working late, coming up with new ideas, crying when it was appropriate, laughing when you needed to. And so I'm proud of the way the culture responded to that.
Recruiting is a constant challenge for aviation. We are a very labor-intensive business, because we still need people to serve guests at the airport and on the airplane. People fly our big, sophisticated pieces of equipment, and people repair that equipment. So we're always in the market for talent. In the current market, it's even more competitive today than it was a year and a half ago. So Spirit's culture has to shine in that regard, because we're never going to be the top player in every market. And geography matters, where you work and live matters, so we try to compete with that as well. But what we try to show people is you can be part of something different here. You can actually change a legacy business, the aviation industry being a very staid and stable looking business, and we can shake it up and do new things and bring opportunities to different people. And that's, I think, what gets people jazzed up and attracted to work here.
Our brand colors, black and yellow, are representative of who we are. And the true Spirit superfans bleed black and yellow. They take serious pride in their work, and they show that in their presence at the airport and in the way they walk around the office. We're still an up-and-comer in this business and our group has a chip on its shoulder about that. That creates a lot of esprit de corps. People get fired up about taking on the big guys. The top four airlines in the United States dominate the space. They're 80% of the total capacity to fly here. So we are truly the David in this analogy, and our group loves that, and we fight for that every day. 
Ted Christie on Spirit Airlines' ongoing growth plans
I joined in 2012. We had about 35 aircraft. Today, ten years later, we're at 170, and in the next three-plus years, we're going to double that again into the 300-plus range. We've been adding cities throughout the course of that growth cycle, Miami being the most recent and the most exciting because of where we are physically located. We are headquartered just outside of Miami, and we've been serving Fort Lauderdale Airport here since the company's origins in Florida 20 plus years ago. Miami has been an airport that we haven't had an opportunity to serve. But now we're there, and we talk about being Florida's hometown airline and South Florida being very important to us. It has been very exciting to get that going, along with a number of other new destinations on our route network. 
Ted Christie on upcoming improvements for Spirit Airlines
Size is important, but for me, what's more important is the product we're delivering and how people feel about it. We deliver low fares, but we deliver a really good experience with that. And over the past five years, we've been a steadily improving and relatively outperforming airline with regard to operational reliability – the way airlines measure on-time performance and cancellation rates. By those metrics, Spirit has been rising the ranks and is now in the top half of the industry; in some cases, we're in the top three. And so five years from now, what I hope we're going to see is a bigger airline with more reach, and more new, exciting places to take people. But what I'm really excited to see is a proud group of Spirit team members saying, "we conquered that mountain, and we did it in the best way possible." We've added options such as what we call the "big front seat", which is a traditional two-by-two business class seat. People can buy that if they want more legroom. We're installing high-speed stream-to-seat WiFi on all of our aircraft. These types of options are the kind of things I hope will allow us to look back and say, "not only were we a low-fare airline, but we were a really good airline."
Ted Christie on how his CFO background has (and hasn't) helped him as a CEO
Initially it was a big asset because the pandemic crisis that we faced became an economic crisis almost immediately. So the discussion was, "how do we fix the cost burden of our business and ensure that we have adequate liquidity to provide for a runway to recovery?" which is a traditional finance and economics problem. I have a great finance team, I have a fantastic CFO and we were able to collaborate, talk through those issues and come up with a lot of solutions. So initially it was very important. However, that importance quickly faded away, and the bigger challenges that emerged were communication and engagement. Having been a CFO didn't help that at all. At that point it was all about getting in front of people, talking about what we're seeing, and being truthful about the challenges we face, but at the same time encouraging them to see a way forward for Spirit. And I found that to be the most energizing part of this job. I'm still a relatively new CEO, and I really loved being a CFO, but the best part here has been talking to people and learning more about what we're doing and that's been great. 
Ted Christie on managing a geographically scattered workforce
One of the challenges in running an airline is that we have 22 or 23,000 team members, but I probably only see 500 of them every day. The vast majority of them are on airplanes or at airports or working on airplanes. Making sure that they're communicated with and engaged has been a big challenge. During the course of the Pandemic, we've actually learned a lot of things about the way we stay connected as a team. Using technology to do that was initially a necessity because we didn't have a way to see each other face to face. Now we've learned that people really like that, and it's the frequency of the communication that they like to see and then layer on top of that. We have a really good leadership team that filters down the messaging well and stays in front of people. If you're a flight attendant working the line here at Spirit, the person you're going to see most in management would be your supervisor in your base. So when you show up at the crew room ready to go on your first flight, is your supervisor there? Are they greeting you? Are they making sure that you look right for the day? Are they making sure that you have all your tools and you know where you're going? We have a good team that manages that from the bottom up. So the key is high-frequency communication, making sure you're available, showing that you care, and being humble. All of those things lend themselves to the culture that's necessary for a disparate business like ours.
You have to be genuine here. I can say honestly that's the way this group feels. We genuinely do care about each other. It's one of our core values and something that we're proud of. And I feel it back too. I get a ton of emails, and over the course of the last year and a half, it's almost embarrassing the amount of inbound communication I've received, people whose lives have been disrupted asking me if I'm okay. It's humbling to see that kind of thing and know that it goes in both directions because people want to see this company succeed, and they want to know we're taking care of each other. And I think that's really great. 
Ted Christie on being one of only eight airlines on Fortune's Most Admired Companies list
We were one of only eight airlines in the whole world and one of only three in the United States to be named to that list. That is an impressive achievement for a small but growing and scrappy carrier. One that validates all the work we've been putting in, and one we're extremely proud of. Fortune has their methodology where they do a bunch of questionnaires for senior executives, outside directors, industry analysts, et cetera. They're looking at factors like talent retention. They're looking at the quality of the management, the environment of the business, social responsibility, the investability of the business, the returns the business generates, all those things. Honestly we were surprised – we didn't submit an application, and no company does. But that award was validating, and it's a great thing to be able to share with the team, to say, "hey, look, it's just one award, but you're now a world class airline, and you should be proud of that."
Ted Christie on the Spirit Charitable Foundation
The foundation has been a huge success for the communities where we live and work, for our team as a way for them to be active, and for our business partners to provide us with ways to give back. Our primary fundraiser is a golf tournament. We raised a million dollars, and we've been able to use that money throughout the course of the pandemic in various ways to help families, to help community organizations, to help with education. We deploy all the money. This is a no-load kind of charitable organization, because it's all volunteer here inside the building, and we're just out trying to take care of people in the places where we live and work. 
We have a number of scholarships at Emory, Riddle, and Broward College and a few other places where we're trying to stimulate people to get involved with aviation. Obviously, women being an integral part of that. We help out with something as simple as building a new home for a family whose house was devastated as a result of the volcano in Central America. We've sponsored a small elementary school outside of Bogotá, Colombia, and we built an entire wing because the U.S. Dollar carries a lot of weight down there. These are impoverished families that couldn't afford to send their kids to school. Now they can, and Spirit is a sponsor of that. So it's a wide range of activities, taking care of family, representing our military, education and environment. Those are all the pillars that we look at, and we're extremely proud of the organization. We started the foundation almost four years ago and have deployed north of two and a half million dollars into the markets we serve. And we've done things like flying into island countries that were devastated by hurricanes and bringing food and health care and all those kinds of things to those families. Very important stuff. That's why these dollars really do matter. So I encourage people, if they're looking for a place to help out, to find our foundation and we'll put their donations to good use.