Leading America's Socially Responsible Bank
We are honored to present this month's episode of Leadership Reimagined, "Leading America's Socially Responsible Bank" with Priscilla Sims Brown, President, CEO, and Board Director of Amalgamated Bank. With a mission to be America's socially responsible bank, Amalgamated Bank empowers organizations and individuals to advance positive change and social justice. Having helped coin the term "ESG" over 50 years ago, Amalgamated Bank relentlessly builds upon its unique legacy to further economic, social, racial, and environmental justice. Listen to a dynamic game-changing conversation with Priscilla Sims Brown, repeatedly named as an innovative, values-based leader, as she speaks about the irresistible opportunity to lead America's socially responsible bank and states, "we don't just have a mission, we are on a mission."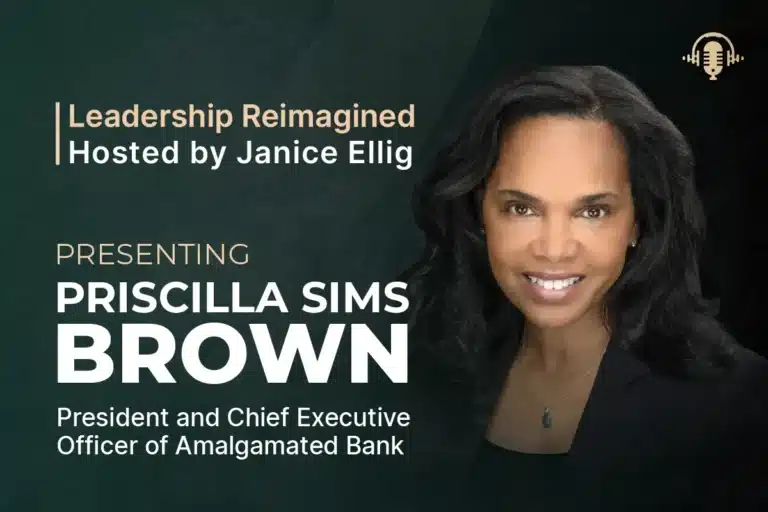 A board director and C-suite executive with over 30 years of financial services experience, prior to joining Amalgamated Bank in 2021, Priscilla's experiences include Group Executive for Marketing and Corporate Affairs at Commonwealth Bank of Australia and executive positions at AXA Financial, Inc., Sun Life Financial, and Lincoln Financial Group. Priscilla's diverse set of global experiences has enabled her to reach across cultural boundaries to ensure collaboration among diverse teams and drive successful outcomes for organizations. It is our privilege to share this episode of Leadership Reimagined "Leading America's Socially Responsible Bank" with Priscilla Sims Brown!
Leadership Reimagined is available on the following popular podcast stations:
Show Notes: Priscilla Sims Brown
Priscilla Sims Brown on What Drew Her to Amalgamated Bank
For my whole, long career, I have had some element of social responsibility as part of my remit. It's come in different forms: the work I did in marketing, which was focused on communities, or some of the work I've done with foundations and philanthropy. Any sort of corporate citizenship work seemed to fall under my job, and it was always the most fun part of my job, quite frankly. Engagement in the community, making a difference as a company, recognizing the power companies have to drive change, those were all the parts I loved most. But they were always a small part of my day, 25% or 30% at most. So, when I was sitting in Australia, and I got the call [from Janice] to consider leading Amalgamated Bank, where I would be serving the community in all that I do, I just couldn't resist. It was an irresistible opportunity to lead America's socially responsible bank.
Priscilla Sims Brown on the History and Mission of Amalgamated Bank
Amalgamated was founded by the leaders of the Amalgamated Clothing Workers in America union, who wanted a financial system that was easily accessible to working individuals and their families, not just for big business and wealthy people. So how has that grown and adapted to today?
As you said, Amalgamated began as the bank for immigrants and people who were unbanked, and we have remained really focused on workers' rights, but we've also grown into serving other segments of the population, whether it be those focused on racial justice or those focused on women's rights and reproductive rights or on climate. A third of what we do right now is in the climate arena.
We serve people who are reaching to make a difference in politics. There are a number of segments that we now focus on, but the underlying value is to make sure that those who don't have access to banking services get access to them. That includes individuals and their home lives, as well as businesses, which are the foundation for our growth. We also take a policy position, meaning we are actively advocating for these changemakers and the work they're doing. Most of what you hear from us is around climate, but also we do a lot of work on issues of the day. Today we're focused on gun safety and reproductive rights as examples.
Priscilla Sims Brown on Amalgamated Bank's Four Pillars of Growth for Good
The first is really living up to our mission and telling our story better. We are a well-kept secret for many people, even though way back in the 1950s it was a former executive with Amalgamated Bank who helped to coin the term ESG. Even at that point, Amalgamated recognized that it did not make sense for us to be accepting deposits on the one hand from changemakers and people who thought about progress in this country, and then on the other hand to be lending that money out to organizations that were harming the environment or doing other harmful things that our depositors wouldn't approve of. Even at that very early date, we decided that our work had to be aligned with our mission. That's our first pillar: focusing on the mission, telling a better story around that mission, and making sure it's understood.
The second pillar is that we are the quintessential segmented bank, meaning we're completely clear about the types of organizations and people we serve. Many of our customers are organizations of some type. We really want to understand what these segments' needs are in order to serve them as well as possible. So, our second pillar is really about those customer insights.
The third one is in providing products and services that are unique to the needs of those communities. So, for example, if we are serving a political candidate or a political party, we have bankers who are available 24/7 if one of our candidates needs to move money very late at night or early in the morning. These campaigns need to have a very clear understanding of the deposits they're receiving, the donations they're receiving. That kind of thing. The foundations that are our clients, we want to be really helpful in advising them and providing them with the information they need to make the best decisions in service of their own missions. We do unique kinds of work that are bespoke to the segments that we serve, and our third pillar is all about building those products.
Finally, the fourth pillar centers around efficiency and delivery. We want to be entirely accessible to those who need to access us – digitally and otherwise. So we work really hard to make sure that we put in the hands of our customers the tools they need to really be successful. We are very passionate about our customers because they are value-based organizations. Many are not-for-profits, some are small businesses. But generally what they all have in common is that they are changemakers who are really trying to do good in the world, and we want to make sure that we're equipping them with the financial tools they need to do that.
Priscilla Sims Brown on Serving Values-Driven Customers and Stakeholders
More and more, customers, whether they be consumers or commercial customers, are using their voice in matters. In today's climate, where social justice issues are at the top of everyone's minds, our customer loyalty and employee loyalty are both quite high. We're a B Corporation, which means that we serve all of our stakeholders equally, even though we're publicly traded. What we find is that the people who are attracted to us as a stakeholder of any type – whether that be an investor, a customer, or an employee – these are largely values-based and focused individuals. We have a number of people who are just interested in us because we represent something they haven't seen before: the idea that you can both do good and do well. But most people are just really fascinated by and excited at the opportunity to partner with a bank that is sincerely aligned with their values and is helping to make actual change happen.
Priscilla Sims Brown on Amalgamated Bank's Big-picture Role
Another important role for us is to not just manage what we do, but to also think about our suppliers and partners, and frankly, to think about other banks and influence them in ways that enable us to punch above our weight. We are engaged in various organizations across the spectrum, both inside and outside the financial services industry.
Priscilla Sims Brown on DEI at Amalgamated Bank
65% of our employees are people of color and/or women. The chair of our board, Lynn Fox, is a woman who has been fighting long and hard for workers' rights, and her whole career, she's been a fantastic partner to me. And one of the things that we really try to accomplish is to make sure that we are absolutely fair in the way we look at diversity within our organization, and more broadly, the way we look at development of people. For example, we know that there are incredibly talented women and people of color in the market. We know that if we just ask every manager to make sure we're bringing very qualified women and minorities into each candidate pool, we're going to get a number of very talented women and minorities in the organization. That's worked well for us. We are really proud of what we've accomplished, but we're also never satisfied that we've done enough. So we are doing quite a lot around the development of our employees. And given our makeup, that's going to increase opportunities for progression for women and minorities.
Priscilla Sims Brown on Amalgamated Bank's Gun Control Efforts
We already use merchant category codes (MCCs) to detect illegal activity that's occurring in other areas, whether it be mortgage fraud, trafficking, etc. We can detect purchase and transfer patterns that do not look right, and when we see such activity, we can alert authorities through something called a Suspicious Activity Report. We don't have that ability with guns because there's no merchant category code for gun stores. Without the code, we can't gather the data from gun stores that we would need to create algorithms to detect likely illegal activity.
Amalgamated asked for a merchant code to be assigned to guns. We were denied. We appealed. We were denied again, and we were not given the opportunity to appeal. So, unfortunately, that meant we had to go public a little bit with this. Now we are in the midst of conversations with the International Standard Organization, which has accepted the idea that we should have an appeal and we should know by August whether or not MCCs will be granted.
An MCC for guns would give us the ability to detect things called straw purchases. This is where an illegal gun is purchased by someone who can legally buy guns. They buy it on their credit card, but they're buying it for the purpose of handing it over to someone else who could not legally buy it. From a bank's perspective, what we see is a credit card purchase by a legal gun owner, followed by the same amount of money being added into the purchaser's account. When we see this kind of activity, we alert authorities, who then investigate to determine whether or not a straw purchase has occurred. Straw purchases have just been made formally illegal by new legislation, but they're hard to detect without access to the kind of data financial institutions have for other products.
The bottom line is that financial institutions have a responsibility to make sure that our systems are not being used for nefarious purposes. Given the right information, we have the ability to detect that. And because this is important to us at Amalgamated Bank, we're fighting to obtain that information.
Priscilla Sims Brown on Her Family History and Project Mercy
My parents were in the Ethiopian parliament – my mother was actually Ethiopia's first woman senator – and they escaped after the demise of the Emperor Haile Selassie and ultimately ended up in the US. When they fled, my older brother and I were both at college in the U.S.
My parents decided that one person would figure out how to support the family, and the other parent would focus on giving back to Ethiopia. So my mother started Project Mercy as my father was working hard to support the family, and he started a small manufacturing business. Project Mercy has grown into a very large, comprehensive program in Ethiopia with schools, 1,900 kids there, a health sciences college, a hospital, a farming project, including a cattle breeding farm and a number of other enterprises. I'm on the board of Project Mercy, and I help out where I can, but my parents and brothers have really led this organization over the years.
Project Mercy has been in place for over 43 years. It started as a relief organization during the drought in the 1980s, and its purpose at the time was to work with large organizations, mostly from America, who were trying to help during the famine, but really didn't know how. From there, the project has grown into a very comprehensive development organization in its own right.
My parents basically went to Yetebon, one of the poorest communities in Ethiopia and asked the elders, "what do you feel this area needs and what are you willing to invest and work on?" The elders said, "look, we want to bring people back. We need a school and we need a hospital." Very quickly, my dad looked around and said, "okay, that's a good idea, but you don't have roads, electricity, or running water. So let's get infrastructure built first."
That has grown into not only the school that we directly run with 1,900 students, but also support of a number of neighboring schools, a hospital, a health sciences college, and more. This is all in an area that had not had formal education since the 9th century.
The people of Yetebon have been deeply invested in the project from the beginning. The local farmers gave up land, people gave up time and sweat equity to build a school. And what we're most proud of is the number of children who started out in first grade, went all the way through, went to college, and then came back and are now working in one of the enterprises in this community. We're proud of the fact that this has gone from being one of the poorest communities in what was then one of the poorest countries in the world, to a community that is now not only surviving but thriving.
Priscilla Sims Brown on Parallels Between the Missions of Project Mercy and Amalgamated Bank
We at Amalgamated recognize that there are people who want to be empowered in their own lives. They're not looking for a handout. They're looking for an opportunity to grow. Capital is a big barrier to that, whether you're in rural Ethiopia or whether you're in urban United States. And the two times when capital becomes really important to people in their own development is when you're trying individually to buy a home and also when you're looking to grow a business and employ people. It's extremely difficult to do either of those things without access to capital, and we know that underrepresented communities don't have that kind of access. So much like what happens in Ethiopia, what we are doing at Amalgamated is helping changemakers who want to make a difference for themselves and their communities and just need a little bit of a boost. At Amalgamated, the boost we provide is the capital for the much needed work. In the case of Ethiopia, with Project Mercy, it's developing a comprehensive solution to very thorny problems that really hit every aspect of life. 
As I think about all of the organizations that we serve here at Amalgamated, the opportunity lies in attacking a problem from all of its sides and really being comprehensive and thoughtful in the work. We need to engage with people and provide them with the tools they need to make a difference for their own lives and for their own communities.
Priscilla Sims Brown on the People Who Helped Her Advance Her Career
On the business side, it was the CEOs I worked for who took a gamble on me or on one of my projects. John Bosch, and then Ian Rowland, who were CEOs at Lincoln when I started the mutual fund and the broker dealer growth, were probably the biggest ones, but there have been several like that. But what has really inspired me, has been women, both younger and older, who throughout my career have just been there when I needed to make a phone call at some ridiculous hour to talk through something that I was struggling with. That's been where I have really developed my biggest strength, honestly, in the business, and not only in the business, also in my personal life, in raising two kids. That's been where I've really felt that I've gained strength and wisdom and guidance. And in some cases, inspiration has come not so much from what they said, but how they live their own lives. I've learned so much from the other women who came before me in business.
Priscilla Sims Brown's Career Advice for Making a Difference
I don't know if this advice makes sense for everyone, but as I've often said, I never aspired to be in the C suite. That was never on my list of what I want to be when I grow up. I always wanted to have impact and more impact. Every job decision I've made, I've done by answering the question, "will this next step have impact? And is it the most impact I have available to me right now?" Sometimes you look back and wish you had gone left instead of right. But the question is still "with the vision I have today, is this the next spot for me that will have the greatest impact?" I really think that approach has served me well. Again, I'm not suggesting it's right for everyone, but for me, it has helped in every decision. Whether it's a not-for-profit decision, whether it's a decision about where I spend my money and my time, that's always been first and foremost and helpful to me.