A Bold Dream to Impact Social Equality
Janice Ellig, CEO and founder of Ellig Group, sits down with real leaders in this series of game-changing conversations, bespoke to fellow champions of change. Heralded by Bloomberg Businessweek as one of "The World's Most Influential Headhunters," Janice is often consulted for her expertise and commitment to gender parity, equity, inclusion, and diversity. We are honored to present this month's episode of Leadership Reimagined, "A Bold Dream to Impact Social Equality" with Maurice Jones, Chief Executive Officer of OneTen. Join us in this month's game-changing conversation with Maurice Jones, an innovative business leader and prominent social advocate whose depth of leadership experience is equally matched by a passion for impacting positive social change and creating a more equitable society.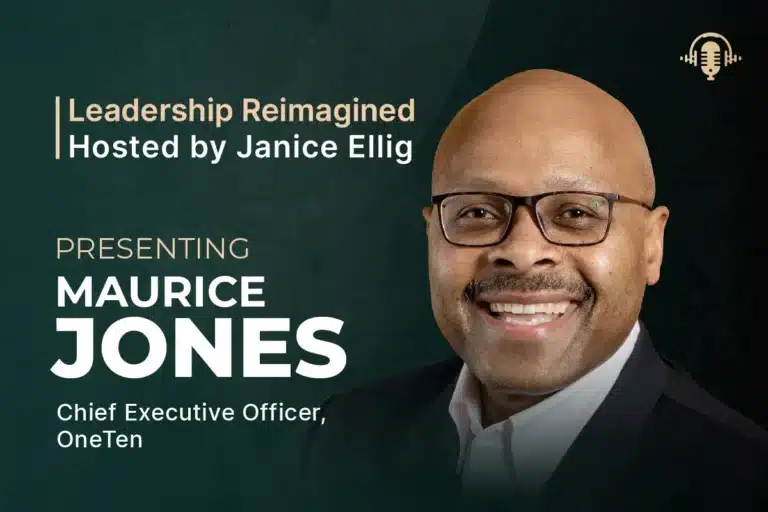 The OneTen mission is to upskill, hire, and promote one million black individuals who do not have a four-year degree into family-sustaining careers over the next 10 years. OneTen, with their "skills-first" approach, focuses on competencies, aimed to close the opportunity gap and ignite potential for years to come. Highly personal to Maurice, as he was raised by his grandparents, he shares how they faced instrumental societal barriers that greatly impacted his life, "they were the most transformative presence in my life, and without a doubt, were brilliant. But their brilliance was not enjoyed by all who could have benefited from it because of the barriers that were put in front of them, overwhelmingly because of their race." Prior to joining OneTen, Maurice held a number of high-ranking positions in non-profit and public service. Having spent his life's work making an impact on society and giving back, it is our privilege to share his story on this episode of Leadership Reimagined "A Bold Dream to Impact Social Equality" with Maurice Jones!
Leadership Reimagined is available on the following popular podcast stations:
Maurice Jones is CEO of OneTen, a coalition of leading chief executives and their companies who are coming together to upskill, hire, and promote 1 million Black individuals who do not yet have a four-year degree into family-sustaining jobs with opportunities for advancement over the next ten years
Prior to heading the OneTen initiative, Maurice was the president of the Local Initiatives Support Corporation, one of the country's largest organizations supporting projects to revitalize communities and catalyze economic opportunity for residents.Before that, he served as Secretary of Commerce and Trade for the Commonwealth of Virginia. He was Deputy Secretary for the US Department of Housing and Urban Development, president of Pilot Media, commissioner of the Virginia Department of Social Services, and Deputy Chief of Staff to the Governor of Virginia, as well as other high ranking positions in public service.
Maurice Jones on the Origins of the OneTen Initiative
Following the COVID-19 pandemic and the resulting recession, as well as the murders of Briana Taylor, Ahmaud Aubery, and George Floyd, A group of CEOs in corporate America came to the conclusion that we've got a lot of work to do in order to become a more perfect union. They concluded that the private sector had a big role to play in that. It began with Kenneth Frazier, at the time CEO of Merck, and Ken Chanault, formerly CEO of American Express, and now at General Catalyst. They brought in teammates: Ginni Rometty, who at the time was CEO of IBM, Kevin Sharer, who had been the CEO of Amgen, and Charles Phillips, who had been at Oracle and Infor. Having brought together that team, they said, "what can we do? How do we, in corporate America, lead an initiative that helps us become a more perfect union?"
They realized that what corporate America does better than anyone is create quality jobs. And you can't get rid of the disparities that are tearing us apart unless quality jobs are at the heart of it.
Maurice Jones on Barriers to Living-Wage Jobs for Black Americans
The founders of OneTen looked at the data and discovered that if you looked at jobs that paid $60,000 and more in our country, 79% of them on paper required a four-year degree to even be considered for the job. Indeed, if you look at jobs that paid $40,000 or more – and by the way, this was before COVID, so it's actually been exacerbated since then – 71% of them required a four-year degree. And yet, when you look at Black talent in the workforce ages 25 and above, 76% of us do not yet have a four-year degree. So looking at that data, they concluded, rightly, that we have a systemic barrier in the form of a credential – a four-year college degree – that is standing in the way of people earning their way into the middle class.
And thus they came up with the bold vision to hire and promote a million Black talent who don't yet have four-year degrees into family-sustaining jobs and careers over the next ten years.
Maurice Jones on the OneTen Initiative's Year-One Results
Janice Ellig:
In the first year, I understand there were 26,000 new hires and 4000 promotions for Black Americans, so congratulations! But how are you doing this? If people don't have the four-year degree, and they come into a company, is there a mentoring program or how are you having the success of getting those hires in and those promotions to happen?
We're really delighted with the results of year one. In fact, those results were achieved in only nine months, from March to December of 2021. That success starts with the companies, who are doing two or three things that are really moving this journey along. First and foremost, they are putting on the table the current jobs they have that both pay at least living wages and don't require a four-year degree. The other thing about those jobs is they're not at risk of being automated out of existence in six months. And they also require less than five years experience for one to be competitive. Companies already have jobs that have those attributes and they are putting those jobs at the service of this journey.
What's even more powerful, though, and frankly, even harder, is that companies are re-credentialing existing jobs. What I mean by that is they're removing four-year degree requirements from jobs that are family-sustaining, where the degree is not relevant to the skills that you need in order to do the job. And they are adjusting their hiring mindsets and changing job descriptions to focus on skills as opposed to credentials. And that really is the big work to be done for the entirety of the OneTen journey: re-credentialing, removing that barrier, and moving to a skills-first approach to hiring and a skills-first approach to promotion.
The third piece is that these companies have agreed to become part of a community of practice. Basically, we curate a forum for the CEOs and the CHROs to come together at least three times a year to share best practices and to understand better what areas we need to work on to really achieve this mission. And the CEOs are committed to that community of practice.
Maurice Jones on how the OneTen Initiative Finds Candidates for Skills-first Employment Opportunities
I want to stress that a big part of this project is building an ecosystem. The first piece of the ecosystem is the companies doing the hiring, and the second piece is the talent development organizations that are in the business of sourcing talent and equipping them to be successful in the jobs. We have 65 corporate partners right now, and counting. We actually have over 100 educational enterprises, boot camps, military transition programs, two-year HBCU training programs, and community colleges. Those are the enterprises that we are collaborating with to both recruit the talent and prepare the talent for the in-demand jobs.
The third component of the ecosystem is obviously the talent. As I mentioned, we recruit them through the talent developers, but we also are forging other partnerships and going directly to the talent through marketing and education outreach.
And then the fourth piece of this ecosystem is what we call talent support organizations. Organizations that can provide coaches and mentors and childcare and transportation assistance. The things that we all need to thrive and excel at whatever it is we're trying to do. The work of the OneTen Coalition is to knit together that ecosystem and then scale it.
Maurice Jones on Talent Development and Scaling Up the OneTen Coalition
We have two vehicles that we're utilizing to grow. First, we have a technology marketplace where the companies can post jobs, the talent developers can post courses and boot camps. Talent can come on and see both and be matched with both. And talent support organizations can publish their offerings as well. So that virtual platform works all across the country.
Our second way to scale up OneTen is through on-the-ground presence in about 25 markets around the country where there's an overlap of talent and job demand. There, we are knitting together the players in this ecosystem the old fashioned way, creating relationships and matches and the like. And to your point, or to your last question, the companies involved in this coalition are across industries. We've got finance, we've got higher ed, we've got retail, we've got technology, we've got manufacturing. So it's a diverse swath of industries, and intentionally so, because we believe for this movement to have the impact that we're looking for, that it has to be diverse in its membership in the industries. And the other piece that I was going to mention is that the types of jobs here are just also multifaceted. They're sales jobs at work here, they're retail jobs, they're health care jobs, they're manufacturing jobs. So there is, no question about it, a pluralistic journey with a lot of players and a lot of diversity. But it is the only way that you do something like this at this kind of scale. It's about curating and scaling an ecosystem.
Maurice Jones on the Pitfalls of Re-credentialing Jobs
One of our teammates who works in HR at one of our companies said to me, "Look: when I hire somebody who has a four-year degree and they don't work out, people will say, 'look, not everybody works out. We know that. We know we're taking a chance.' But when I hire someone who doesn't have a four-year degree and they don't work out, then people respond, 'what were you thinking? Of course they weren't going to work out.'" It's that kind of mentality that we're trying to change here. We can re-credential as many jobs as there are stars in the sky. But unless and until people really believe in the merit of skills-first approaches, then we're going to have people default to the reliance that they've had on the proxy of a credential to tell them something. Actually, when you effectively look at it, the credential really isn't used in a lot of cases to tell you whether someone can do the job or not. It's more often used just to weed people out. The biggest challenge I think we have across the board is a mindset shift
Maurice Jones on Closing the Racial Wealth Gap in America
I think one of the greatest risks to the American democratic experiment are the widening disparities that we have in our country. And one of the riskiest is the wealth disparity that largely breaks down along race and place. The OneTen Initiative is an effort that must succeed if we're going to have a chance of closing that racial wealth gap. And when I saw that we had these corporations lining up behind it, I became confident that we can do it. I saw this as an opportunity. 76% of Black people in the workforce right now do not have a four-year degree, but that number is actually 66% of all workers in the workforce. So this systemic barrier is, yes, disproportionately impacting Black talent, but it's actually impacting all talent cohorts. So we believe that when we fix this issue for Black talent, we're actually going to have a more inclusive and productive and reliable and loyal workforce, period. It's in the interests of the companies, it's in the interests of families, and it's in the interest of the country from the standpoint of remaining globally competitive in the international economy.
This is not a short term-fix. This is a movement. No question about it.
Maurice Jones on Tech Jobs With No Degree Requirement
The digital age is creating a lot of new opportunities for virtual work. It's creating more kinds of jobs. It's actually creating many technology jobs that definitely don't need a four-year degree. You can go to a coding boot camp, for example, a good one, and in eight weeks' time, be ready for a job that enables you to earn a living. So I think the digital age is putting an abundance of new opportunities on the table.
Maurice Jones's Advice for Young People Trying to Enter the Workforce
First and foremost, get prepared. You definitely need to get through high school and look for organizations that can equip you with skills post high school, whether it's community colleges or the boot camps, or military service.
Secondly, do everything in your power to find mentors. You want to benefit from the experience and the wisdom that others can share with you. So definitely search out and cultivate mentors and be a great mentee: show up, listen, and be curious.
The last thing I would tell you is raise your hand, take a risk, go for opportunities. If you're already within a company, raise your hand for promotions. If you're not, you need to boldly and aggressively pursue opportunities that interest you.
Opportunities are abundant now, and this is part of a movement. There are 10 million plus open jobs. I can't think of a more promising time for candidates than now. And that's why my advice is to be bold.
Maurice Jones is CEO of OneTen, an initiative to connect Black Americans to family-sustaining jobs without four-year degree requirements.
Janice Ellig is CEO of Ellig Group, a New York City executive search firm leading the industry in diversity, equity, and inclusion-driven executive search and consulting.
For more insights from top executives and leadership experts, subscribe to the monthly Leadership Reimagined podcast, available on all major podcast platforms.