Janice Ellig, CEO and founder of Ellig Group, sits down with real leaders in this series of game-changing conversations, bespoke to fellow champions of change. Heralded by Bloomberg Businessweek as one of "The World's Most Influential Headhunters," Janice is often consulted for her expertise and commitment to gender parity, equity, inclusion, and diversity. We are honored to present this month's episode of Leadership Reimagined, "A Modern Placemaker" with MaryAnne Gilmartin, the Founder and Chief Executive Officer of MAG Partners. MAG Partners is a woman-owned, New York-based urban real estate company, developing impactful, iconic, large-scale projects that incorporate principles of beauty, diversity and sustainability. A conversation with self-made real estate mogul, MaryAnne Gilmartin, shares her story of perseverance in a male-dominated industry. As she describes her journey, "the only thing that was certain was a lot of uncertainty," but you can always count on your grit and passion.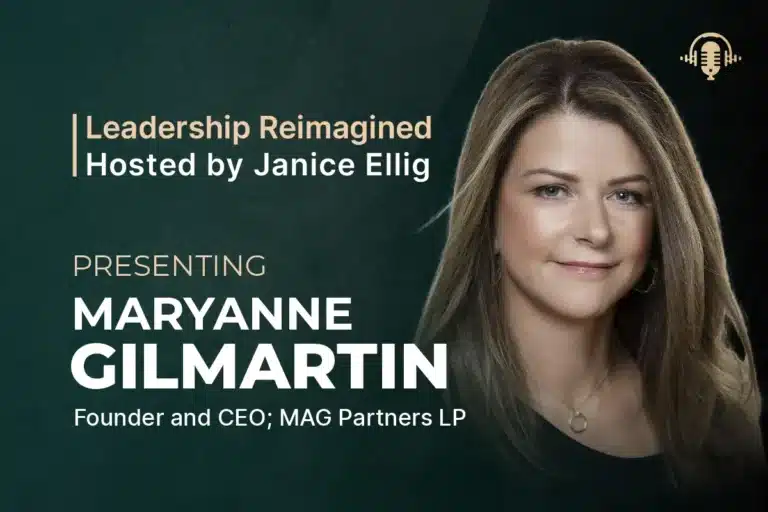 "I never got that memo that said as a woman in the real estate business you should feel extremely intimidated and be bashful at the table." Most recently, MaryAnne also served as interim Chief Executive Officer and Chair of the Board of Directors of Mack-Cali Realty Corporation. Prior to founding MAG Partners, MaryAnne was CEO of L&L MAG. After a successful two-year partnership with L&L, MaryAnne spun out of L&L MAG to launch her own firm, MAG Partners. Before that, MaryAnne Gilmartin served as President and CEO of Forest City Ratner, a New York real estate development company, where she succeeded Bruce Ratner as CEO in 2013. It is our privilege we present to you this episode of Leadership Reimagined "A Modern Placemaker" with MaryAnne Gilmartin!
Leadership Reimagined is available on the following popular podcast stations:
Show Notes: MaryAnne Gilmartin
MaryAnne Gilmartin describes her early career path
Serendipity had a lot to do with it. I think we all need a plan, but we all need to be prepared for that plan to be upended. I was an Urban Fellow under the Koch Administration. I was granted a fellowship to come into government. It was the city's only recruitment mechanism in the late eighties, and you were able to pick your agency and work directly with commissioners and heads of agencies. In that process, I was encouraged by the leaders of the fellowship program to try something outside my area of interest. At the time, I was on my way to law school, hoping to fight for the rights of juveniles in the justice system, and I did a ton of interviewing with commissioners around the city. In the 80s, coming out of the fiscal crisis, the city was a very different place. The physical plant was terrible. There was absolutely no way for anyone in government to hire anybody because there was a freeze on new hires. But they could bring on urban fellows, and every Commissioner in the city wanted one, so I got all sorts of offers to come into agencies and shadow the Commissioners. On a whim, I took on two fellowships, a summer one and an academic year one, and I decided to try economic development. It was a very sophisticated, quasi-public agency with a president, a board of directors, carpeting and air conditioning. At the time, the city was a really horrendous place to work. I went to school in the Bronx; I'm pretty tough, but I have to say, walking into the Public Development Corporation, I thought, "you know what? I could spend a summer here and just figure this economic development thing out and try it on for size." It was then and there that I realized I had real estate development in my veins. I would never have known it had I not spent that summer doing projects around the city, large scale public-private partnerships. 
Seven years into that gig, I realized I could cross over to the private sector, do some of the very same game-changing work, and actually earn a better living and do it with a company and a balance sheet instead of a city government. Bruce Ratner recruited me to come and work at Forest City. And there I began my career in the private sector, doing lots of large-scale projects with government partners. I spent 23 years working at Forest City, had an incredible run and a lot of luck building amazing iconic buildings around New York from the ground up, and then I had the great fortune of operating those properties. So I became a pretty able placemaker, builder, and operator of real estate all throughout New York City. 
That career experience was really mind opening for me. It became my craft, and it was all I wanted to do. At the same time, I was working for a public company that was in the public markets as a non-REIT (real estate investment trust). And at the time, any public company in real estate really was a REIT. And so Forest City had to figure itself out, had to come up with some strategic alternatives and turned itself into a REIT. At that point, I realized many of the things I did with Bruce Ratner, I would never do again, because the world had shifted. Development was not really of interest to the public markets. The long-term value creation of that craft was not appreciated, and the attitude was really, "what have you done for me lately?" So I decided to exit the company after five years as the CEO. I went to the company, and they were very supportive of my moving on and in fact, granted me an assignment, a very robust assignment, where I had two years of a bankable contract with Forest City to continue to work on some of their challenges. That allowed me the working capital to found my own company with a team of trusted professionals with whom I had built my career at Forest City. 
MaryAnne Gilmartin on what drove her to persevere in the cutthroat real estate industry
I think some of it is just DNA. I came from a childhood in which the only thing that was certain was a lot of uncertainty. And I think that developers need to feel very comfortable with lots of moving parts. I call it the great Rubik's Cube of real estate. If you're uncomfortable settling after a long day with lots of disparate parts floating around, making decisions, connecting dots and driving forward, it can be unnerving for people that aren't comfortable amid chaos. I certainly am comfortable with change. I'm comfortable with complexity. I can tell you that it is a cyclical business, and therefore the highs are amazing, and the lows are staggeringly challenging. Living through downturns, through 9/11, through Superstorm Sandy and what that did to building in New York and what that did to our business really made me a better developer and a better leader. I think the key is that I really don't cower in the face of difficulty, and I am very passionate about my work, which really does matter. 
And finally, I never got that memo that said, "as a woman in the real estate business, you should feel extremely intimidated and be bashful at the table." I think I came from meritocracy. Bruce Ratner brought me through the business believing it was the best man or woman for the job. I always had his support; he always had my back. And as I became more capable, as I took on more responsibility, Bruce wanted me to take on more, to do more, and to become the face of the New York company. To me, it's just proof positive that what we, as women in this profession, are looking for is a level playing field and an opportunity to compete in a meritocracy. 
MaryAnne Gilmartin on winning the New York Times building development bid
What I became focused on during my career at Forest City was this notion that we can build beautiful projects. We can do it with and for people that look like our great city, and we can create lasting value for our partners, our investors, and the communities in which we build. That sounds really straightforward, but it's not so easy to do. In many ways, the built environment in New York City had, for a very long time, been a commoditized industry. It didn't matter whether your buildings were high quality, whether they were good looking, whether they delivered for the communities in which they were located. You could ignore all those things and still make a lot of money and claim success. And I became focused on this notion of the lasting presence of a tower on a skyline on the ground planes of New York City and the responsibility that we give real estate developers to create places. I took it very seriously. And when I convinced Bruce Ratner to chase the New York Times bid, he said, "hey, MaryAnne, we are not going to win that bid. We're more Brooklyn than we are Park Avenue. The fix is in. It's going to be the old boys' network and you're wasting your time." But I do love competition, so I pleaded with him to let me try, and if I failed, I would learn along the way, and he begrudgingly let me chase this assignment in 1999. We were up against the highest-profile developers in all of New York City. And after a fairly arduous bidding process, won the assignment. Now, it takes many, many people and a lot of hard work to win an assignment like the partnership with The New York Times to build a brand new headquarters building for a company that's in a neighborhood named after itself. There was a certain sense of gravitas around the assignment. And I was given a lot of the credit for winning that assignment and putting that great building together with the New York Times as a partner and a tenant, and with Renzo Piano as the architect. That process of going through and creating that great building through 9/11, at a time when people laughed at the notion that 8th avenue would be a legit location for law firms, media firms, hedge funds. Everybody thought it was a joke. I was laughed at by the brokerage community for thinking that we could build an amazing icon across from the Port Authority on 8th Avenue. But lo and behold, conviction, a lot of time, commitment to quality, and great sponsorship like the Gray Lady, allowed us to do something extraordinary. 
Just the half of the tower that we owned created $1 billion of value. We only owned the top half of the building, and that became a trophy asset for the company. But it also changed forever the way that I looked at my business. I didn't want to be part of forgettable construction projects that were driven only by an economic formula and not by a commitment to quality and principles of sustainability. Prior to my ascension to the role of CEO, there were buildings and projects built around New York City by Forest City that were not the finest in terms of quality, but were in lots of different neighborhoods around the city. As CEO, I became committed to doing projects like the New York Times in terms of quality, sponsorship, and lasting sustainability. It was an existential moment for me to recognize that if I was going to continue to do this, I had to try and do it that way. That was the only way for me and anybody that wanted to be on my team.
MaryAnne Gilmartin on staying the course after 9/11
After 9/11, there was this idea that nobody would want to be on a high floor in a building. Before the attack, we had negotiated hard to control and lease the top half of the tower and give the New York Times the lower half. We were building the whole building, but they were going to be the occupant of the lower half, and we were so happy to have been able to drive rent and value through the upper half of the tower. And then, 9/11 happened, and suddenly that felt like it might be a terrible idea. 
I'll never forget the week after 9/11, when the Times was asked quite pointedly whether they were planning on continuing with their headquarters building. It had been designed and was described as a modern icon, a masterpiece of the modern millennium that was going to create transparency in its ground plane and would be open to all New Yorkers in its lobby and public spaces [so it seemed vulnerable to terrorist attacks]. The New York Times said, "we don't believe that any New Yorker would want to occupy a building that was built to withstand the attacks of 9/11. We have to learn from that moment, but we, The New York Times, will be forging forward as a sign of the city's great resiliency. We're going to build this highly transparent, beautiful tower on top of twelve subway lines, across from a major terrorist target called the Port Authority, and we're going to do it with pride and commitment and prosperity." And that's in fact, what happened. It was a great lesson to me on the power of partnership and conviction and passion for what we're doing. 
MaryAnne Gilmartin on affordable and workforce housing in New York City
In New York City, most outside the real estate business are not aware that most rental housing in this city is built with some level of affordability. That's what allows developers the tax incentives that are fundamental to making the economics work. So developers have been building affordable rental housing in the city forever. It's almost invisible to New Yorkers that a building might have 80% luxury, 20% low-income units inside of a single building. And it's a formula that's worked over the last five years. There's been a demand to create a higher percentage of affordability, and I support and applaud that requirement. So much of what I want to do is build multifamily housing in the city. Because I think with housing, a crisis that has really played this city for all of the time that I've lived here, you could never overbuild the multifamily sector of our business. And it is the kind of building that, as a builder, once you build it, you typically hold on to it because it's an annuity. It's the gift that keeps on giving, because people will rent your apartments. There's simply not enough rental housing in the city. So I hope to create all types of housing: market rate, affordable, and workforce housing, which I'm fascinated about. If you think about teachers, firemen, police officers, folks like that, they ought to be able to live close to the urban core. It's silly. That the frontline workers can't afford to live in the dense urban core. They're pushed out to the outer areas of our city or even to the suburbs. Those folks deserve to have an opportunity to live in city centers with workforce housing. And so I think we're going to see a lot more of that in cities going forward. And I hope that MAG Partners can have a meaningful impact in changing the complexion of housing across our city.
MaryAnne Gilmartin on the future of New York City
I was fascinated in listening to Dan Doctoroff talk about this, and I share a lot of his views about what it means to be a modern, global city. And it comes down to high performance. Unfortunately, New York City has a very tired old building stock; the average age of a building in the city is 70 years. Our buildings are sick. They're unhealthy, they're not brought up to modern standards. 
I use Hudson yards as an example. We all know that Hudson Yards was not a blockbuster success because of its proximity to transit, right? It's not easy to get there. What it does have is high performing 21st century buildings that were thought out and that focus on the needs of modern-day businesses. And I believe as a city, when you look around the globe and you see what's happening in Shanghai, Dubai and other 21st century cities, New York really needs to up its game. It needs to improve its built environment and frankly, it needs to improve the business climate for companies because we're fairly hostile to businesses. It's a very tough city to live in and to work in today. 
But notwithstanding that, it's the greatest city on Earth. It's a magnet for talent. It's an incubator for big, innovative ideas. And all of that has worked to our advantage. But if you think about it, some of these other factors need to shift and need to move to a place where we keep up with the competition. We shouldn't rest on our laurels. And so people like Dan Doctoroff and other civic leaders that are committed to driving New York City into the 21st century should be applauded. And I think the infrastructure bill hopefully will bring good news for New York. As we try to strengthen the infrastructure, network and system in our city, it's vital for us to compete with other global cities. 
The four things MaryAnne Gilmartin would do to update New York City
The first thing I would work on is creating housing, specifically, housing that brings people to the city in a more hospitable way. We are a country of cities. There are more people living in cities today than ever in the history of the world. If we build it, they will come. And it shouldn't be so difficult, and it shouldn't cost New Yorkers such a high percentage of their income to live here. I would start with NYCHA (New York City Housing Authority). I would take the city's public housing and I would re-mass it. I would use the property to drive value for the city so that they could improve public housing and create diverse housing stock in and around public housing. Because there shouldn't be a "poor door," there should be diversity in the housing stock within a particular submarket. I don't know if you've ever toured a NYCHA building, but it is still one of the most devastating property tours I've ever taken just to see how people live. And it is just not acceptable that New York City itself is a slumlord. That has to change. And I think any leader running the city needs to take responsibility for that. So housing, housing and housing, that's number one. 
Number two: infrastructure. We've got to improve our city streets, our subways and our bridges. And I think a lot of this can be done through technology. But I think that the investment has to be real, has to be meaningful and sizable. And we have an opportunity down in Washington now, because of the infrastructure bill, to harness a lot of funding to shape our city's future and make it more 21st century in terms of its infrastructure. 
Finally, education. We have to improve our education system. Public education is important. It's always been important. We need to figure out a way to pay our teachers better, to improve the facilities in the city, in and around the city, and to raise all tides. And I think that public schools need to be a place where people enter with hope and possibility and come out with a fishing net, not the fish, if that makes sense. We need to create opportunities for our public school children and they need not to be an afterthought, which I think, unfortunately, is the case. 
I'll just add one more. I was part of a commission to study Rikers Island, the largest penal colony in the world. Rikers is over 450 acres. It has no constituents living in or around the prison other than the occupants themselves. And so, if you think about it, it's an unbelievable piece of real estate. And whether it becomes Infrastructure Island or a place to build a massive amount of housing, Rikers Island should be thought of and should become a big focus of government in the next decade. As we look to reshape the way we handle jails in our city, we should bring that closer to the communities. And if you look at community efforts to deal with convictions, when they go deep on issues like mental illness, addiction, and family dysfunction, they try to keep people out of jail and give them the help that they need. There are great models, not just in New York City's neighborhoods, but also globally. And I think we should study those and we should dismantle Rikers, and we should become a model for cities around the world in terms of how we deal with the incarcerated. 
MayAnne that's really creative thinking on reimagining the use of land like that, and of course, a penal system as well. But you're right, you have to look at things differently and say, what else could it be used for? How else can we shore up society here in New York City? That's a wonderful idea. I hope somebody picks up on it. And I know you will be at the different public private partnership tables driving a lot of new ideas before we have to close. And I could go on. There's so much yet to be done here. In prior interviews, you've talked about your hopes of establishing something known as "She Building." Can you just tell us what that means to you? It's interesting. 
MaryAnne Gilmartin on her "She Building" concept
It's in some ways a very small idea that could have a very big impact. And it's quite straightforward: imagine that we put a building together in New York where every bit of the process was driven by a woman. I think that it would be so easy to do this, because I know of all the talented women that have the ability to design, to construct, to finance and to operate a building. But I would love New York to be the home of the first building put together – every nook, every cranny, every workstream – with a woman at the helm. I thought of it because now that I own my own company, it's quite a remarkable feeling: to have a building, a company, that I own 100% of, and that I can really take on a passion project like that and do it. 
I believe it starts with the money. It is often the money that drives the results in my business, so I believe that identifying a capital partner that's headed up by a woman is the first and most fundamental step. Then we'd create a brief where whoever wants to participate in the creation of this building would need to demonstrate leadership by a woman at the top of the organization. This is so simple to do. It's just never been done before. And it's interesting: once, after an article was written about this idea, a well-known male in the business, whom I really respect, shot me an email saying, "I was taken aback by this. How would you feel if we decided to put a building together entirely by men?" And I laughed, thinking, "well, okay, welcome to my world." 
In some ways, I was happy because I thought this guy got all worked up about the fact that we were going to go create our own building. And I thought, "maybe that is a sign of progress." Because you and I know when we stop talking about the need for women to be in the boardroom, for women to be in the C suites, for women to be represented at the very tops of organization, it'll be a yawn. When we no longer have to talk about what it's like to be a woman in a man's business, we'll celebrate, because that means we've gotten somewhere. But I also believe we are not going to have this conversation in an echo chamber. You and I are going to agree on this, but we're not going to change the world if we don't get others involved in the conversation. So going forward, I don't want to talk about work-life balance unless at least half of the panel is men, because otherwise we're all going to agree with each other. But we need to start talking about it with men, because men still rule the world. I don't think it's going to be that way forever. 
And if you keep doing what you're doing, it will certainly change. But for right now, we should do a She Building. And I'm unapologetic about that, because that has not been the norm. That has not been possible up until now, and it's ridiculous to think that it's impossible. So I hope to be part of making it possible as part of my run as the CEO of MAG Partners. 
MaryAnne Gilmartin's parting words
I want to give you a shout out to the Women's Forum of New York Breakfast of Corporate Champions, particularly this most recent breakfast was just remarkable in every possible way. Nobody makes people feel uncomfortable the way you do, Janice; in the most glamorous and sophisticated way. We need to be uncomfortable, we need to have the tough conversations and we need to work hard at doing it.