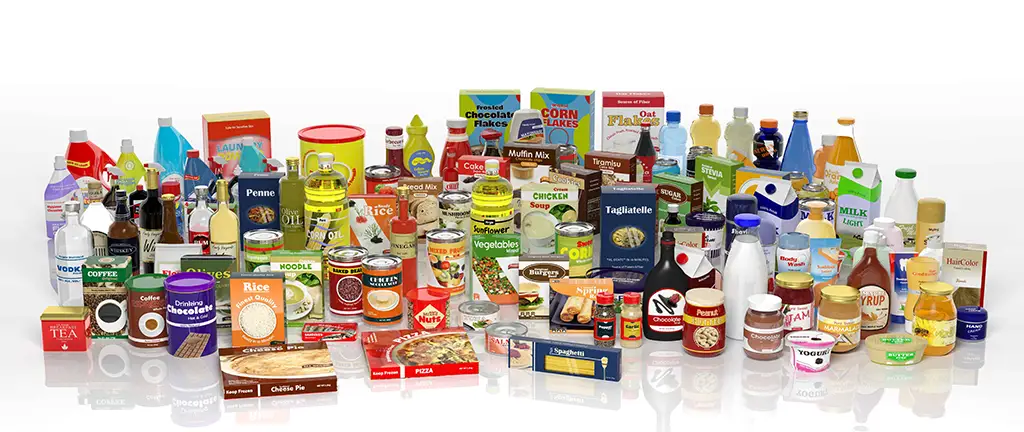 Consumer non-durables is a category that encompasses many of the familiar products we use every day. But is consumer non-durables a good career path? If you're looking for a recession-proof job, it may be the career path for you!
What are consumer non-durables?
Consumer non-durables are products that are used for a limited amount of time. This means they are either consumed in one use or used up over a short period. Technically, if a good is used up in three years or less, it is considered a nondurable good. This category includes food, cosmetics, beverages, household products, clothing and footwear. "Household products" is a vast category that includes everything from light bulbs to paper towels to dish soap and laundry detergent to personal care items like toothpaste and mouthwash.
Consumer durables, by contrast, are consumer products that last over three years, including cars, real estate, electronics and appliances. Consumer services, meanwhile, are services instead of physical products.
Because the products need to be replaced often, non-durable products are purchased frequently, and therefore the demand for them is high. For this reason, the consumer non-durables industry is booming.
What companies are in the consumer non-durables field?
The top ten consumer non-durables companies by market cap are currently:
Procter & Gamble Company
Nestle AG
Coca-Cola Company
L'Oreal
Nike
PepsiCo
Philip Morris International
Christian Dior
Unilever
Estee Lauder
Procter & Gamble employs 101,000 people and made $76.12 billion in revenue in 2021. Procter & Gamble is one of the world's top Fast-Moving Consumer Goods (FMCG) companies, specializing in a wide range of personal care and hygiene products – with brands including Gillette, Bounty, Crest, Olay and Pantene. Nestle AG, the world's largest food and non-alcoholic beverages company, has 276,000 employees worldwide and raked in $92.57 billion in revenue in 2021. Nestle has over 2,000 brands and has a presence in 191 countries worldwide. Coca-Cola, the USA-based non-alcoholic beverage purveyor, has 80,300 employees and made $38.65 billion in revenue in 2021. (All figures in this section taken from Value.Today world top companies )
L'Oreal is a France-based cosmetics and beauty products company that employs 85,392 people with an annual revenue of $35.58 billion. L'Oreal's portfolio of brands includes Kiehl's, Essie, Urban Decay and Maybelline.
Nike is an American footwear and apparel company that employs 79,100 people and brought in $46.71 billion in revenue in 2021. PepsiCo is a food, snack and beverage purveyor that employs 267,000 people and brought in $70.37 billion in revenue in 2020.
If you are considering a career in consumer non-durables, a good place to start is by researching companies in this field. This way you can learn about the company's culture and values and find one that will be a good fit for you. It will also allow you to find what benefits the companies offer employees. You can use the website Glassdoor to find out what employees have rated the company and what they say it is really like to work there.
These large companies offer their employees benefits and perks. For example, Coca-Cola provides health and dental insurance and severance pay. Procter & Gamble and other companies of that stature offer pension plans. They also provide perks like well-appointed gyms or free snacks. There can be drawbacks, however, in working for these large companies. The work culture is usually intense, with some employees reporting there is no work-life balance.
How many jobs are available in consumer non-durables?
The consumer non-durables sector is vast, and there are many opportunities for jobs in this industry. According to the Bureau of Labor Statistics, the consumer non-durables industry employs more than 5.6 million people in the United States. There are more than one million people employed by the cosmetics industry alone, and this number is projected to grow along with the overall population.
There is a wide variety of jobs in the consumer non-durables industry. At Procter & Gamble alone, they organize their careers by nine categories. The first, Branding & Marketing, covers the categories Brand Management/Marketing, Communications, Consumer & Market Knowledge and Design. The second, Research & Development, encompasses Design, Engineering and Science. The third, Product Supply, is divided into Engineering, Manufacturing, Purchasing, Quality Assurance and Supply Chain & Logistics. The remaining six categories are Information Technology, Finance & Accounting, Human Resources, Sales, Legal, and "Additional" (including Aviation and Government Relations jobs). In summary, at large multinational corporations that employ tens of thousands or even 100,000 or more employees, there is a wide variety of jobs.
There are many opportunities for sales and marketing for companies like Procter & Gamble and Coca-Cola. There are also many technical jobs in the digital departments of companies like Unilever and PepsiCo. You can be a regional sales representative at Estee Lauder or a project manager at Nike.
However, the competition is tough at these large non-durable goods companies. Procter & Gamble gets more than 900,000 applicants each year for only 5,000 jobs. Interviews at these companies will be multi-step processes. Companies like PepsiCo and P&G conduct multiple background checks on potential employees.
The payoff could be worth the fierce competition, however: at companies like Procter & Gamble, one of the benefits is their training and professional development programs. According to P&G, 11,400 current C-suite executives started their careers there.
What do consumer non-durables jobs pay?
At the entry level, a Production Associate makes $38,615 per year. A Quality Assurance Analyst makes $41,761, according to Indeed.com, while Software Quality Assurance Analysts make a bit more, at $97,710 per year, according to the Bureau of Labor Statistics. A Communication Specialist can make $41,496 per year. A Benefits coordinator makes $48,446 per year on average. A Brand Manager makes $65,647 per year. A Sales Representative makes a median salary of $65,954.
For the huge non-durable goods companies we listed, the average salary is pretty high, according to Payscale. The average salary at PepsiCo is $79,000 per year, while at Coca-Cola the average salary is $82,000 per year. The average salary at Procter & Gamble is $87,000 per year. This does not include the annual bonus, which at Coca-Cola is an extra $12,000 per year and at PepsiCo is an average $8,000 per year.
According to Glassdoor, the average salary at L'Oreal ranges from about $62,346 per year for a Beauty Advisor to $231,695 per year for the Vice President of Marketing. The average salary, including bonuses, at cigarette giant Philip Morris is $124,493. Glassdoor also tells us the average Nestle AG hourly pay ranges from $17 per hour for an intern to $61 per hour for a Manager.
What are the best paying jobs in consumer non-durables?
Some of the highest paying jobs in consumer non-durables are in the technology arena. As retail stores increasingly transition to ecommerce, more and more jobs will become available in this field. For example, the average Information Security Analyst nets $113,270 per year. Employment of Information Security Analysts is projected to grow 33 percent from 2020 to 2030 according to the Bureau of Labor Statistics. Web Developers make an annual salary of $113,720, with a projected 13 percent growth. The median salary for a Network Engineer is $89,329 per year, while Digital Designers make $70,919 per year.
Other high-paying jobs in consumer non-durables lie in management. The average Human Resources Manager position makes $136,590 per year. Human resources manager positions are expected to grow 9 percent before 2030. Marketing Managers make on average $153,440, with a projected 10 percent growth in the number of positions available before 2030. Industrial Production Managers make $117,780 per year and the job is projected to grow 5 percent this decade (figures from Bureau of Labor Statistics).
At Philip Morris, the highest paid job is Director of Sales, which makes $230,554 annually. The lowest paid job at Philip Morris is a Marketing Manager making $50,500 annually. At Anheuser-Busch, a Key Manager makes $79,800 per year on average, while a Data Engineer makes $76,296.
Is consumer non-durables a good career path for you?
The consumer non-durables industry offers stable jobs with established companies. Marketing jobs can be good opportunities for the creative- and business-minded. Tech jobs in consumer non-durables are a good option for someone who is a whiz with computers. For an MBA, there are many lucrative opportunities in consumer non-durables as a Human Resources Manager, IT Manager or Marketing Manager. STEM grads can find great opportunities in research and development or product supply.
The consumer non-durables industry offers competitive salaries and good benefits and perks. The industry also promises growth over the next decade, especially in the digital space. With the growing demand for sustainable products, and the increase in technological advancements, there is exciting potential for innovation in the consumer non-durables industry.
What's more, in a recession, consumers will usually do without purchases of durable goods but will continue to purchase non-durable goods at the same rate. Non-durable products like groceries and household products are considered necessities, and their purchase remains stable despite fluctuations or downturns in the economy.
Jobs at established companies usually offer competitive wages, benefits and perks. There are a large number of multinational corporations in this sector, like Estee Lauder and Nestle AG, which could provide you with the opportunity to work abroad.
Finally, because the consumer non-durables market is less affected by fluctuations in the economy, the industry provides stable jobs that are ideal for the risk-averse.