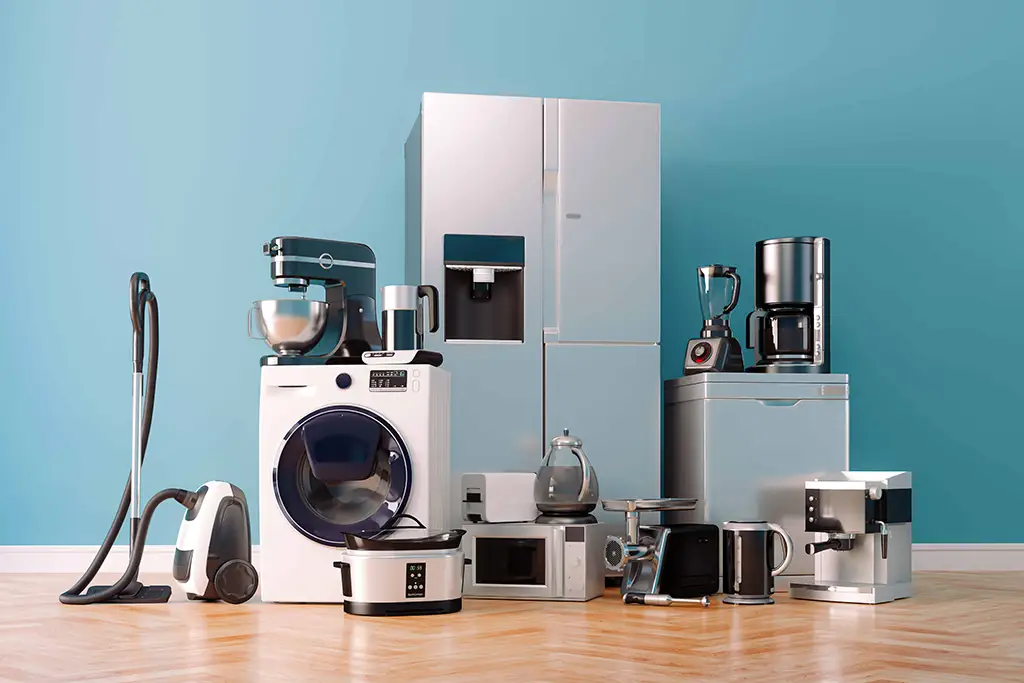 What are consumer durables?
Consumer durables are end products purchased by consumers. Durable means they are intended to be used and re-used repeatedly over long periods of time and therefore do not have to be purchased frequently. Examples of consumer durables are cars and other vehicles, electronics, tools, jewelry and appliances. This is in contrast to consumer non-durable goods, such as food and dish soap, and consumer services, such as health care and financial planning. Durable goods are usually more expensive than non-durable goods. Expenditures on durable goods are usually a sign of economic growth. Consumers usually stop purchasing durables right before a recession.
But is consumer durables a good career path? To answer that, we'll need to consider a variety of data about job growth, wages, and companies…
How many jobs are available in consumer durables?
There is a wide variety of jobs available in consumer durables. The consumer durables industry is a $2 trillion industry that employs around 3 million people.
At top consumer durables companies, there are opportunities in Product Design, Marketing, Operations, Engineering, Sales and more.
What companies are in the consumer durables field?
There are two subcategories of durable goods: brown goods and white goods. Brown goods are consumer electronics such as televisions, computers, cameras and speakers. White goods are consumer appliances such as refrigerators, washers, dryers, air conditioners and blenders. The top consumer durables companies for brown and white goods are Apple, General Electric, Samsung, Hewlett Packard, Sony, LG Group, Panasonic, De'Longhi Appliances, Canon, Phillips, Bosch, Hitachi, Dell, Lenovo and Toshiba.
Apple is the largest technology company by revenue, totaling $365.8 billion in 2021. They employ 154,000 people. General Electric manufactures appliances such as washers and dryers. Also a producer of industrial equipment like aircraft engines and consumer services like electricity and health care, GE employs 168,000 people and amassed $74.19 billion in revenue in 2021.
Samsung, a South Korean company, is another electronics manufacturer. Samsung brought in 279.6 trillion South Korean won ($214.46 billion USD) in 2021. They employ 287,439 people. Hewlett Packard, a U.S.-based information technology company, has 60,400 employees and has an annual revenue of $27.78 billion. Sony Corporation is a Japan-based manufacturer of electronics that employs 109,700 people and has an annual revenue of $73.79 billion.
Panasonic is another Japan-based company that manufactures consumer electronics, employing 259,385 people and brings in $54.93 billion in annual revenue. De'Longhi Appliances is an Italian company that manufactures kitchen appliances such as coffee makers, fryers, and air conditioners. They employ 8,607 people and bring in $2.5 billion in revenue each year.
Bosch is a German multinational electronics manufacturing company. Bosch employs 400,000 people and brings in $91.68 billion in revenue each year.
Canon is a Japanese electronics company that specializes in cameras, camcorders, scanners printers, and other image products. Their annual revenue is $28.8 billion and they employ 25,377 people.
What do consumer durables jobs pay?
The breadth of jobs in consumer durables means the pay varies.
At the top companies we listed, salaries are competitive. In 2021, the median pay for Apple employees was $68,254. Among the lowest paid Apple employees are 3D Artists making $32,000 per year. Among the highest paid would be the Director of Operations making $204,527 per year. A Project Manager at Apple makes an average of $80,000, including salary and bonus. Meanwhile, a Principal Engineer at Apple makes $285,000. (Source: indeed.com)
The average base salary for General Electric employees is $97,000 per year, with an average $9,000 bonus. There are a lot of opportunities for people pursuing an engineering career to earn a lot of money at GE. For example, a Senior Mechanical Engineer makes an average of $112,447, while a Senior Software Engineer earns an average of $109,846. The Engineering Department averages $154,614 total compensation. Comparably, the Design department averages $113,308 per year, the Marketing department averages $107,228 per year and the Operations department averages $74,675 per year. (Source: payscale.com)
Samsung pays its employees an average base salary of $98,476 per year. That is not even including the average bonus, which is $13,000. A Senior Software Engineer at Samsung earns an average of $136,686 per year. An Area Sales Manager can earn as little as $36,000 per year or as much as $89,000 per year, with the average being $87,879. (Source: payscale.com)
The average salary for Sony employees ranges from $25,000 per year for a Customer Specialist to $168,000 for a Sales Manager. On the production and manufacturing end, an Assembler makes about $9.10 per hour, an Injection Mold Operator makes $13.50 per hour, while a Production Supervisor makes $71,482 per year and a Production Manager makes $111,681. An assembler job is considered a low-skill job while a Production Manager position usually requires years of experience. (source: indeed.com)
At Panasonic, a Quality Control Supervisor makes around $38,812 per year, while the Associate Director makes $171,833 per year on average. As at Apple, there are many opportunities in Industrial Engineering at Panasonic. An Industrial Engineer earns $86,292 per year, while an Engineering Manager makes $119,912 per year. An Account Executive makes $110,000 per year. (source: indeed.com)
The average salary for Bosch employees is $127,751, while the median salary is high, at $119,306. The lowest-paid job at Bosch is Customer Service Representative, which pays an average of $45,295 per year. The highest-paid job at Bosch is Director of Sales, which nets $231,452 per year. The average salary for the Finance department at Bosch is $88,964, while the average salary for the Business and Development department is $156,228. (Source: comparably.com)
The average Canon U.S.A. annual salary ranges from $25,000 for a Public Relations Assistant to $123,000 for a Senior Manager. A Purchasing Manager at Canon makes $120,000 per year while a Contract Administrator makes only $36,000 per year. (Source: comparably.com)
What are the best paying jobs in consumer durables?
Product Designers are responsible for, you guessed it, designing the product. They earn an average of $81,456 per year. Product Managers in consumer durables oversee all aspects of creating and launching a new product. The average product manager salary is $110,000 per year. (All figures in this section taken from the U.S. Bureau of Labor Statistics' May 2021 estimates.)
Sales Representatives market and sell a company's product to retailers or to the consumer and earn on average $72,115 per year.
Some of the highest paid jobs in consumer durables lie on the business side of things. Marketing Managers earn $142,470 on average per year. Business Analysts earn an average of $82,000 per year. Account Managers earn $83,900 annually.
There are many opportunities in Project Management and Industrial Engineering at companies like Apple. An IT project manager at Apple makes $124,820 per year, while an Engineering Project Manager makes $161,206 per year. An Engineering Manager, meanwhile, makes $195,470 per year at Apple.
Is consumer durables a good career path for you?
A career in consumer durables can be quite lucrative for those with the requisite education and experience. It might be good for someone with engineering experience, for example.
Careers in consumer durables provide unique challenges like keeping up with changing technology and trends. A career in consumer durables would be ideal for the tech-obsessed.
The top consumer durables companies often provide desirable benefits and perks. Apple employees receive health care, a free gym, and stock-based compensation (Restricted Stock Units). One Production Supervisor at Sony, who left the job due to what he said was low pay, told Indeed, "Huge working pressure to confess daily basis. But canteen is very good." So at the very least, you will have a good cafeteria.
One drawback to working at a top consumer durables company could be the pressure and how hard the work is. One former Account Executive at Panasonic told Indeed, "Work [is] hard and pay is great, lots of travel. Competitive and fun team work with strong leadership and lots of communication. [It is] hard work and can be all consuming."
"All-consuming" implies the absence of a work-life balance. Furthermore, a lot of travel could be a pro or a con, depending on how the individual feels about it.
Employee satisfaction overall depends on the company. One employee said of Apple, "Pay does not keep rate with inflation." On the positive side, one former Apple employee said, "Positive, inspiring, and always looking for ways to improve."
If you are considering a career in consumer durables, you might start by researching different companies on Indeed or Glassdoor to see not only what the salary and benefits are, but what the culture is like and if it aligns with your values. One employee said of Canon, "[The] management style is unique. Japanese culture in an American environment . . . [The] hardest part of the job is growth prospects . . . ."
One former Design Engineer at GE, who made $60,000 per year, told Indeed, "The very good culture of making sure all staff are up to date exist[s] and I have appreciate[d] that more than anything else."
The risk-averse should be aware that during times of economic downturn, consumers usually forgo purchasing consumer durables. For this reason, the job market may be less stable than that of the consumer non-durables industry.
On the other hand, consumer durables like refrigerators and computers will always be a part of life, so the demand for them will never cease. According to the Bureau of Labor Statistics, Computer and Information Technology occupations will grow 13 percent before 2030.