Janice Ellig, CEO and founder of Ellig Group, sits down with real leaders in this series of game-changing conversations, bespoke to fellow champions of change. Heralded by Bloomberg Businessweek as one of "The World's Most Influential Headhunters," Janice is often consulted for her expertise and her commitment to gender parity, equity, inclusion, and diversity.
We are honored to speak with Eileen McDonnell, the Chair and CEO of Penn Mutual. Eileen joined Penn Mutual in 2008 as Chief Marketing Officer and throughout her 12 years of leadership at Penn Mutual, has received multiple distinctions for her honorable dedication to the region's business and academic communities. Prior to her tenure with Penn Mutual, Eileen served as President of New England Financial; Senior Vice President of the Guardian Life Insurance Company; and was a former member of the Master of Science in Management faculty at The American College.
Join us as we discuss Eileen's impassioned leadership for furthering an inclusive work environment and her longtime commitment to advancing the financial well-being of women.
Episode 19: "Cheerleader-In-Chief"
Dubbed Cheerleader-In-Chief and Chief Morale Officer, Eileen is steadfast in the belief that how you conduct yourself is equally important to what you accomplish, as she says "there is no right way to do a wrong thing."
In this episode of Leadership Reimagined, Eileen explores how transformative leadership begins with the behaviors modeled every day. Culture is made up of the values you live daily — strong values are the bedrock that Eileen grew up with and what she continues to instill in the Penn Mutual culture every day.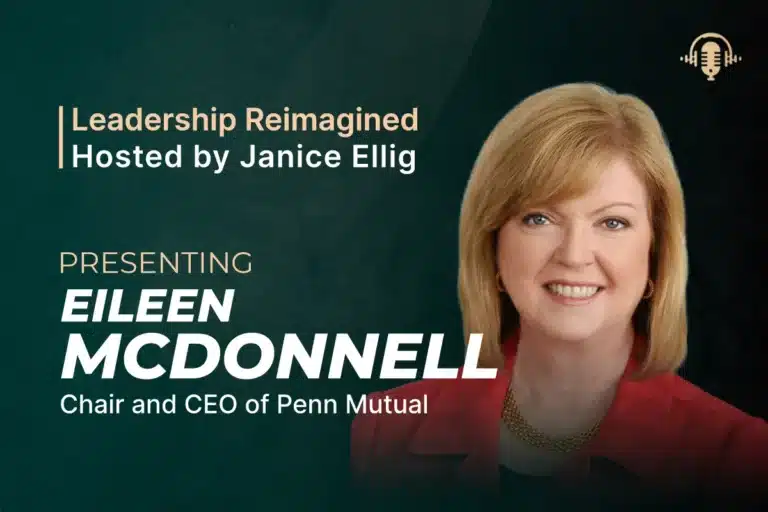 "I believe you will always get the most out of people when you allow them the freedom to navigate the balance of their work and personal priorities. In doing so, create an environment that allows for the discussions of those priorities and when someone is struggling, offer some guidance. I think by allowing your employees to live authentically, you will have greater loyalty, commitment, and outcomes."

It is with great privilege we present to you this episode of Leadership Reimagined "Cheerleader-In-Chief," a conversation about the importance of transparent leadership with Eileen McDonnell.
Leadership Reimagined is available on the following popular podcast stations: