Janice Ellig, CEO and founder of Ellig Group, sits down with real leaders in this series of game-changing conversations, bespoke to fellow champions of change. Heralded by Bloomberg Businessweek as one of "The World's Most Influential Headhunters," Janice is often consulted for her expertise and commitment to gender parity, equity, inclusion, and diversity.
We are honored to present this month's episode of Leadership Reimagined, "A CEO Who Knocks Your Socks Off" with Dave Heath, the Co-Founder and CEO of Bombas, an apparel company that successfully revolutionized the modern sock. Bombas was founded with a mission – to help those in need, where one item purchased equals one item donated, and they continue to fulfill that mission always and forever.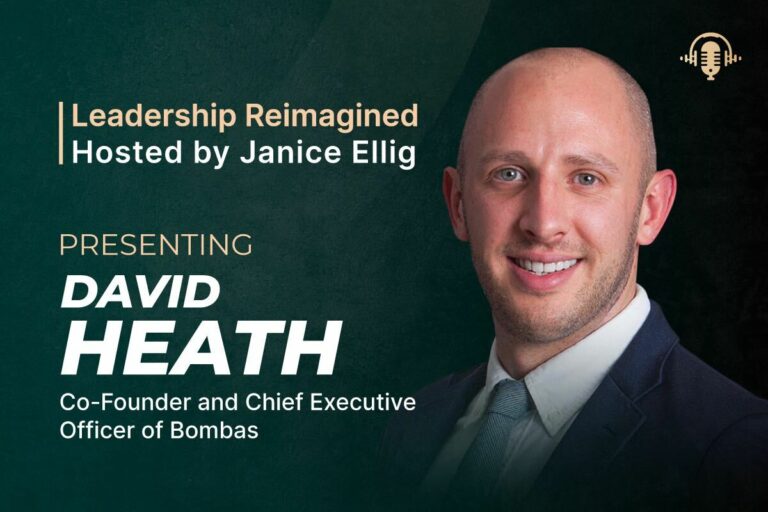 Dave Heath Co-Founded Bombas in 2013 after reading an article posted by the Salvation Army that stated, "socks were the number one most requested item at homeless shelters." Fast forward 10 years later, they have fulfilled their mission to design a sock that incorporates the comfortable features of athletic socks at an affordable price while donating more than 85 million items to their "non-paying customers" of the homeless community.
Bombas is derived from the Latin word for bumblebee, because bees are naturally altruistic, working together, and always striving to make the hive a better place. To embody the company ethos of "bee better," each new Bombas hire participates in "Hive Initiation" during their first week of work, handing out 10 pairs of socks to homeless people in New York City.
It is our privilege to share this episode of Leadership Reimagined "A CEO Who Knocks Your Socks Off" with Dave Heath!
SHOW NOTES: DAVE HEATH
Dave Heath on the origins of Bombas
I went to school for entrepreneurship, and my dad was an entrepreneur, so I think from a pretty young age, I'd always known that I wanted to start and build and run my own company. And so shortly after graduating college, I looked at the world through the lens of trying to solve problems through business and dabbled in a few things. Earlier on, after graduating, I worked for a number of startups and tried to learn as much as I could. But at the same time, I always walked around with my eyes open, my ears to the ground, trying to find opportunities to solve everyday problems through creativity and through the lens of entrepreneurship, which I think a lot of entrepreneurs do. And as it randomly happened, I was scrolling Facebook in the beginning of 2011, and I came across a post from the Salvation Army that said, socks are the number one most requested clothing item at homeless shelters. And I remember sitting there thinking, it's pretty sad. Here's an item of clothing that I've never spent more than a few seconds a day thinking about, unless I got a hole or my feet were wet. But otherwise, I kind of put my socks on in the morning, and I didn't think about them until I took them off at the end of the night. And yet for 600,000 people experiencing homelessness here in the U.S. every single year, this was being perceived as, essentially, a luxury item. And that blew my mind. I didn't immediately go, "oh my God, there's a business here." I just sat with it and thought, "wow, this thing is sad. Maybe I can go buy some socks and donate them or carry them around in my backpack, walking around New York City and hand them out at the same time. I was obviously very interested in entrepreneurship, and I followed entrepreneurship media, and I saw what Blake Mycoskie at Toms was doing, revolutionizing this new business model of buy one, give one with their shoe company. And that's kind of when the two things click together. And I was like, "maybe I can use this same model that Toms is using for shoes and apply it to a sock business that could donate a pair of socks for every pair of socks that we sell." I wasn't thinking that it would be nearly what It is today, but I thought, "maybe this is a fun little hobby business, and I'll see where it goes."
Dave Heath on raising capital for Bombas
Since we originally launched without the idea that it would be this huge thing, we kind of bootstrapped it to start. I spent a year and a half working on the product development before I even sold a single pair. We spent a lot of time with Randy and our other co founders thinking up the name and what the brand would stand for and how we wanted it to show up visually. We launched it on Indiegogo in August of 2013. We set out a very aspirational goal of selling $15,000 worth of product, which is kind of what we needed in order to place our first production run. And we ended up selling $25,000 in our first day, and we went on to do $150,000 for the full 30 day period that we ran this campaign. So we realized clearly there was more interest or demand for this kind of mission giving product that also revolutionizes the average, everyday sock into this much better, higher-quality item. And we built it from there. We said, "all right, let's build a website. Let's take the product, and let's start shipping it to customers and see what they think. Do they come back? Do they rebuy? Do they tell their friends about it? And can we try to grow this thing organically as much as possible without having to go out and raise a bunch of money."
We achieved $500,000 of sales in our first six months. And I watched Shark Tank. So I went out and started talking to investors, and I was like, "oh, we're not trying to build. We don't think this is going to be a billion dollar company," or any of these crazy things that we were seeing. I was thinking, "we'll just try to build a good, profitable business and maybe sell it one day." And nobody bought into the dream. It was always, "we're passing; it's not big enough." So we ended up raising a bunch of small angel investment checks from a bunch of people who did believe in us. And then we got pitched for Shark Tank, and then we ended up airing, and the business completely took off shortly after airing, and built it from there.
Dave Heath on Bombas's business concept
Our thinking was: the philosophy of the company is that we want to donate a lot of socks, but in order to donate a lot, we need to sell a lot. But if we're going to sell a lot, then we obviously have to create a product that the customer really wants. So that's when we started saying, "okay, there are two pillars to the business. There's the mission, which is that we're giving back to this underserved community, but then there's also this incredibly high quality product." And where we landed on the product was that we realized that the mass market athletic sock hadn't changed in 50 years. It was mostly dominated by the big mass market brands: Haines, Fruit of the Loom, Jockeys, Private Label, things you'd buy in a twelve-pack in a plastic bag at Walmart. But on the performance side of the market – performance running, cycling, marathons, hiking, basketball – there was a lot of performance and innovation happening in that smaller sector. And my thought was, "I'm on my feet all day, right? I climb up subway stairs and run around the city. Why are athletes the only ones who should feel comfortable and supported all day long?" And so I thought, "why don't we take all this technology and innovation that's happening in the premium athletic world and bring it to the mass-market consumer and convince them that there is a better product that they could be wearing every single day for a marginal increase over what they're kind of spending on these lower-cost commodity-type products." That was our general hypothesis. And fast forward, we're almost ten years later and 85 million items sold and 85 million items donated. We've clearly struck a chord with people.
Dave Heath on retaining talent
There is a segment – and I'd argue a growing segment – of the workforce that wants to feel like their job contributes to more than just creating profits for shareholders. They want to make sure that when they're waking up every day or when they're looking their kids in the face every night, that they feel like they're leaving the world a slightly better place than they found it when they woke up that day before. And I think we deliver on that. Every single employee knows that they are playing a part in contributing these much needed items to people who truly have nothing. And I think from the early days it wasn't just about, "oh, come work at Bombas, and we donate a pair for every pair that we sell." It was, "come work at Bombas. Not only do we donate a pair for every pair that we sell, but we're setting up volunteer opportunities for you to be able to go out before work, during work, after work, whatever fits your schedule, to actually go and have hands-on, direct impact in the communities where we all work and live. And that connection to the community, that seeing the impact firsthand, really embeds in the employee: "wow, I am making a difference!"
On top of that, I took the experience that I had in my 20s working for other companies, the good companies and the bad companies, and asked myself, "what made me a happy employee and what made me an unhappy employee?" And I found that the formula was pretty simple: treat me like I'm part of the company, trust in me, that I can be along for the journey and share in the challenges that the business is facing as well as the wins that the business is facing. If you've chosen me to work here, then trust that you've chosen a good person and that I'm not here to sneak a sick day every now and then to go play games by myself or whatever, or that I'm working other jobs. There are places I worked where there was so much distrust in terms of, "where are you? Why weren't you here right on time? Why did you take an hour lunch?" In my view, I'm choosing to work here, and I'm choosing to devote my time, so treat me with some of that respect. Early on we said we were going to be fully transparent on everything going on in the business, whether that's financial performance, whether we're going to raise capital, whether we're hiring new people, whatever we're doing, we wanted to bring every employee along for the ride. And then we also treated people like human beings and realized that people's lives outside the office were oftentimes more important than their lives inside the office. And it's a really big, fundamental shift, I think, when you can see your employees as human beings and realize that their pets get sick, they have breakups, they have floods in their apartments. None of these are things that they want to go through. But if you say, "I'm going to create a little bit of space for you to be able to deal with the challenges that life naturally throws at us," the amount of gratitude and loyalty that you get back is profound. And I always said, if you want to attract the top talent, top talent always has an option to go work anywhere because they're the best. The best people always have places to work. And I decided it's my duty as the CEO and the employer of this company to do whatever I can to make these people as happy as possible. That's just a general philosophy that we've adopted, and I think that's translated into why we continue to attract and retain the best people.
Dave Heath on how to build corporate culture
I believe that these things can be learned, because I think I learned them mostly through my own experiences. I remember how it felt on the positive side, to be recognized and seen or appreciated by my manager or company. And likewise, I remember the feeling of despair and lack of self-worth or lack of trust if a company treated me poorly. And I was very cognizant of remembering what it was like to be an employee. I decided I was always going to operate this company looking through the lens of every employee, at every level, and realize that as the leader of this company, I have the influence to be able to shape how our people show up every single day. This was something that my co-founders and I decided early on. He said, "look, we're building out this business plan. We can make our best guesses at what we'll do in terms of financial success and top-line revenue and profitability, but ultimately the market will determine whether they want our product or not. The one thing that we absolutely can control is how we treat the people who show up and work here every single day." Regardless of big financial success or moderate financial success, that's the one part of our destiny that we have 100% control over. So we've always shown up and operated the business through that lens, and I think it's led us to a really great place.
Dave Heath on Bombas's name and trademarks
So it was very intentional. One of my co-founders is a creative. He worked at a bunch of agencies and we gave him the reins on the brand. We said, "look, we need a name, we need a symbol, and we need a brand architecture that represents the altruism naturally built into the business model of giving product away to an underserved community." He came back and said, "I've landed on two animals that are naturally altruistic outside of human beings: bumblebees and ants." We unanimously agreed that bumblebees are probably more marketable than ants. So he presented this and he said the Latin word for bumblebee is Bombus. But  if you Google bombus, you get a lot of beekeeper information and random stuff about bees. So the question was, how do we make it ownable? So we changed the U to an A. So it's B-O-M-B-A-S. It's derived from the Latin word for bumblebee. And bees are, as I said, naturally altruistic animals. They work together as a hive, and they're small creatures, but they have a large impact on this world. And we like the idea that socks are a small clothing item, but to somebody who really needs them, they have a large impact on their life and their day. And then we came up with "bee better" as our tagline, which is like our version of Nike's "Just Do It." It's just a simple reminder that as you're putting on a pair of our socks, a pair of our underwear, even one of our T-shirts, this idea is knit into all of our products. And it's the simple idea that every day you can show up to "bee" a little bit better, whether that's to your spouse, whether that's your employees, to your community, to your friends, whoever it is, or maybe it's just to bee better in whatever activity you're pursuing. It's just this gentle reminder to just try to bee a better person.
Dave Heath on Bombas's product line and donations
Two years ago, we launched underwear, which is the second most requested clothing item at homeless shelters, and t-shirts, which are the third most requested clothing item. For the foreseeable future, we don't really have any plans to go much beyond those three "top drawer" categories. These are the three items that typically put on first thing in the morning, the three items you take off last at night, three items you wear closest to your body, and for that same reason, for those experiencing homelessness, they're also the items that they end up wearing through a lot faster. Socks, specifically – if you're experiencing homelessness, your main mode of transportation is walking around everywhere, and you're afraid of someone stealing your shoes, so you keep your shoes on at night. And all of these things add up to major foot hygiene problems. The same thing with underwear. If you're not changing your underwear or t-shirts frequently, they start to smell, so there's a dignity aspect. So focusing on those products allows us to provide the top three most requested clothing items to homeless shelters, which are specifically designed for the homeless community. We don't just buy some cheap product and donate that. We take the same level of design, attention and care that we put into our consumer-facing products as we do into the products that we donate for the homeless community. We actually refer to the homeless community as our "non-paying customers," because we still view them as customers. They just aren't buying the product from us.
As a private company, we don't always disclose our sales revenues, but we do disclose our numbers for impact and items donated. And as I mentioned earlier, we've accumulated about 85 million items donated over the last nine years.
Dave Heath's advice for entrepreneurs
One very important thing is staying focused and not trying to be everything for everybody. Figure out where you can find some level of differentiation. I think one of the benefits that my co-founders and I had in starting this business was we didn't come out of the apparel industry. I worked in media and software sales prior to starting Bombas. So from the beginning, we were doing something that is now one of our core values as a company: operating through the lens of the customer. That also applies to our non-paying customers, which is how we ended up designing our donation product. But always look through the lens of a customer and try to be as critical of the product, of the site experience, of the customer service as they would be.
We applied that lens to basically everything that we did while staying extremely focused. For the first almost eight years of the business, we sold only socks. We didn't have underwear, we didn't have t-shirts. And this was a multi-hundred-million-dollar business in just the socks category alone. Now, at times, we were certainly challenged to say, "oh, we're so successful, we're very profitable. We've achieved more than anybody else has done in this category. We should produce way more products. Let's start selling sweatpants and sweatshirts and running shorts." We had all these ideas of things that we could naturally expand the brand to. But we realized that we're really good at selling socks, so we stuck to those at first. And eventually, we earned the credibility with the customer to say, "all right, what's next? We're ready for some more products." And that's when we naturally decided to go into underwear and then naturally into t-shirts after that because those products typically go together. We didn't try to go after everything or be everything for everybody right out of the gate. And so I think that was really, really helpful.
Dave Heath on values-driven decision making
Very early on, I think literally within the first few months of even launching the business, my four co-founders and I sat around and wrote down our values on a piece of paper. It seems like a really silly exercise in retrospect, because there were only four of us, and we already kind of knew what values we believed in. But we sat down and we went through the exercise of writing down our core values, the things that would help us make decisions, and the values that we would never compromise on when challenged with tough, difficult decisions, which we've been faced many times over the years. And the guiding light has always been, look at our core values, what is important to us, which ultimately means what's important to our customers, our employees, and our community that we serve. And it has always led us to make the right decision.
I think naturally, the four of us were galvanized by this idea because it pulled on the strings of our own personal values. So to sit around the table and then agree, "hey, we should take care of the customer, we should produce a great product, quality product, we should treat our people well and we should take care of the community," it wasn't super hard to get the four of us aligned on those values because that's why we were here building this company. But eventually we were faced with challenges like "we could save some money if we produce this product over here, or if we change the packaging to X, Y and Z, or maybe if we reduce the quality of the donation." But we would say, "yeah, maybe we could save some money. But let's look at our values. Our values are to produce a high quality product, our values are to take care of the community. Those decisions to make something slightly cheaper at the expense of our values, we're not going to do that, because remember, we chose that these values are important." And then we'd all realize we shouldn't even be discussing this.
Dave Heath on the 2022 Holiday Season
Yeah, so far we're definitely seeing this being a very strong season, despite, I think, an otherwise challenging year overall for the economy, which is obviously no secret to anybody who follows the news. Record inflation, high gas prices, rising interest rates. The consumer was definitely a little wary for the majority of the year. But it's interesting, I also think because of social media, because we have kind of an always-on news culture, I was never somebody that waited for a promotion to buy because if I want the gift that I want to give, I'm just going to buy it. I don't want to risk it selling out. But this year I waited because all the news publications were saying there were going to be huge promotions this year. We ran the same promotion that we've run every single year. I believe that promotions are a very slippery slope. Once you put that drug into the vein, it's very hard to take it out. And I think it has longer-term brand implications if all of a sudden you're 50% or 60% off. Look at what happened at The Gap over all these years. So we're just treating this holiday season as a somewhat of an anomaly of a cycle, a corrective period. But despite that, by running the same promotion as always, I think we've had our biggest days. Certainly we'll have our biggest holiday that we've ever had.
Dave Heath's parting words
I think one of the biggest lessons that I've taken away is that acts of kindness don't need to be these grandiose things. It doesn't need to be a big check that you write. It doesn't need to be a big program that you commit to volunteering x number of hours every month. Small impacts add up to have large impacts. And I always tell people, it can be even the simple act of saying hi or smiling or waving at or recognizing someone experiencing homelessness. A lot of people just walk by, which eventually makes these people feel invisible. And even if I don't have a pair of socks or a toiletry bag or anything to give them, I'll simply say, like, "hey, how are you doing today?" And you'll always see this reaction. Like the smile. "Hey, good. How are you?" It's a real genuine human interaction. And that was free, and it took 2 seconds. So I think I learned that small acts of kindness add up to big impacts and movements. So just get started in the smallest way possible. Whether it's getting involved in a local charity, whether it's donating $5 to a cause that you care about. There are these really interesting things called giving circles now, which you can sign up on grapevine and pledge a dollar a month, and you're now part of this group of people contributing larger dollar amounts to organizations. I think that's probably my biggest takeaway.
I think a lot of people feel more inclined to give during the holiday season, and that's great, but giving needs to happen all year round. Don't just make it a one time a year thing. The charities actually get overwhelmed this time of year, and then come February, they suddenly need a lot more resources, either in donations or volunteers. So remind yourself that giving should be something that you do always, and not just one time a year.