Janice Ellig, CEO and founder of Ellig Group, sits down with real leaders in this series of game-changing conversations, bespoke to fellow champions of change. Heralded by Bloomberg Businessweek as one of "The World's Most Influential Headhunters," Janice is often consulted for her expertise and commitment to gender parity, equity, inclusion, and diversity.
We are honored to present this month's episode of Leadership Reimagined, "Reimagining Cities" with Dan Doctoroff, Chairman and Chief Executive Officer of Sidewalk Labs, the urban design innovation subsidiary of Alphabet Inc, with a focused vision to build more sustainable equitable cities globally.
Dan Doctoroff's career has encompassed many roles—investment banker, private equity, CEO, government, and entrepreneur. A force in the community, he serves on the Boards of the University of Chicago and Bloomberg Philanthropies and Founder of Target ALS, an initiative to streamline discovery of new approaches to treating ALS. He is also the Founder and Chairman of Culture Shed, an innovative new cultural institution at Hudson Yards in Manhattan.
Tune in as Dan discusses his focused vision to build more sustainable, innovative, and equitable cities around the world, attributing much of his success to taking risks and storytelling. "Once you unburden yourself from worries about what other people think about you, you can be a much smarter and better risk-taker."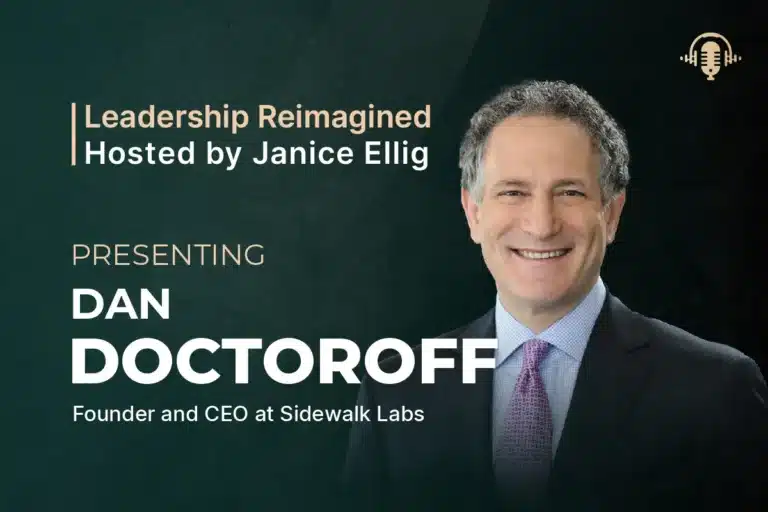 Dan founded Sidewalk Labs in 2015, the urban planning and infrastructure subsidiary of Alphabet Inc. Prior to Sidewalk Labs, Dan Doctoroff held many executive positions including seven years as President and CEO of Bloomberg LP, and before that he was the longest serving Deputy Mayor for Economic Development and Rebuilding for the City of New York, under the Bloomberg Administration. Previously, he was Managing Partner of the private equity investment firm Oak Hill Capital Partners, where he founded NYC2012, the organization that spearheaded efforts to bring the Olympic Games to the city.
It is our privilege we present to you this episode of Leadership Reimagined "Reimagining Cities" with Dan Doctoroff!
Leadership Reimagined is available on the following popular podcast stations:
Show Notes: Dan Doctoroff
Dan Doctoroff on post-pandemic recovery for New York City
I've always been an optimist about New York. If you think about the last 200 years in New York, we've been through many financial downturns, we've been through severe weather events, we've been through horrific terrorist attacks, pandemics, and the city has always come back. The question is, how long will it take for it to come back? Is it going to be like after 9/11, where within a couple of years we have completely rebounded? Or is it going to be drawn out like the 1970s, where it basically took us 25 years to recover?" In my mind, the key to all of that is really leadership. Leaders in this city have to point a way toward a better future, a future that is responsive to the demands of the time, while still at the same time being respectful of what New York is and how it's unique and the fact that it actually competes with other cities. And I'm encouraged thus far by what our presumed next mayor has said. The question is, how will that get executed on? And we just have to wait and see. But I do believe with the right leadership, we will see a really strong rebound. And I think it's starting to happen already. 
Dan Doctoroff on rebuilding after 9/11
The first thing was that we viewed 9/11 as a catalyst not just to rebuilding the World Trade Center site, but to rethinking the city and making it what it needed to be for the 21st century. After 9/11, you have to give Rudy Giuliani, whatever he's become, credit for this. He rallied people around the recovery of the city, and we took advantage of that. People wanted to make the city, as the title of my book says, Greater Than Ever. They were willing to try new things, and we capitalized on that. 
The second component is that you need a philosophy. You have to believe in something. And ours was rooted in the uniqueness of New York. Its competitive advantages, a respect for our competitive weaknesses, but also a belief that growth was good. There's a virtuous cycle to a successful city, which is that you grow in terms of the number of people, the number of jobs, the number of visitors. That growth, which takes advantage of fixed infrastructure, generates taxes that can be reinvested in improving quality of life, which attracts more people. And stimulating that virtuous cycle is what you need to do as a policymaker – you need to convince the people it's the right thing to do. 
The third thing you need is a strategy for actually doing that: a strategy for growing, for reinvesting, making people's lives better. We came into office with a point of view on that from a physical perspective. A lot of it was defined by the Olympic bid that I had started and rethinking neighborhoods all around the city. But it obviously expanded from there in many different ways. The strategy is really important. It's not enough to talk about what you want to do. You actually need a concrete point of view about what it's going to take to get where you want to go. 
The last piece is execution. And it's often overlooked, but government plays a really important role. Government has to work with the private sector, but more fundamentally, it has to function effectively. And one of the things that we did, I think, was bringing great people. We also structured the government to minimize the sort of bureaucratic friction that can slow things down. We also got very good at storytelling. We got very good at coming up with money when we actually didn't have it. And all of those are just different forms of execution. 
I will say, of all the things that Mike Bloomberg did to bring the city back after 9/11, I think the most important was that he picked good people, empowered them, supported them, so they felt confident to take risks. And even when the risk didn't pay off, he was supportive. 
Dan Doctoroff on how government can enact positive change
Execution in government is really hard. It's hard because you're trying to manage a whole set of competing demands of lots of constituencies that believe they have a legitimate say in whatever process it is. All that stuff just takes time, and you have to acknowledge that. You have to be respectful of the process. At the same time, to get anything done, you have to act with a sense of urgency at all times, because the reality is, because of all this process, everything will die of its own weight if you don't work diligently at it and aggressively push things along. And so learning how to manage that process is absolutely critical to everything. 
We didn't do everything perfectly. We made lots of mistakes. I almost took Mike Bloomberg's mayoralty down by pushing a stadium on the West Side. But what's important is that as you're out there trying to do new things, if you make mistakes or you aren't succeeding, you need to learn from them and adapt. I think that was one of the things that we also did extremely well. Most of what we wanted to do, we were able to do. Sometimes we failed but we learned from the failures. 
Dan Doctoroff on NYC's 2012 Olympics Bid
I came up with the idea of bringing the Olympics to New York and it was by happenstance. Somebody had taken me to a World Cup game back in '94 out at the Meadowlands in New Jersey, and I've never been to a soccer game before. Didn't like soccer. The two teams playing in the semifinal match were Italy against Bulgaria. I didn't care about them either. It was about 100 degrees, my friend dragged me out there, and I was complaining about it the whole time. And I walked into the stadium, and I thought it was the most amazing sporting event I've ever seen. When you injected national passion into the event, it just totally changed its character, made it more exciting. And I stood there thinking you could play that game in the New York area with any two countries in the world, and the feeling would be exactly the same. And then from there it was a short leap. Why has New York never held the most international event, the Olympics? Over the next year and a half, I researched everything about the Olympics and started thinking about how you'd do it in New York, what it would take to win. I had this insight that, done well, the Olympics can be a catalyst to true change in cities. The reason is that the Olympics, even bidding on the Olympics, occurs on a deadline, and nothing else in a city ever occurs on a deadline. So you could use those deadlines, the fact that hopefully the world was going to be coming to your city, as a catalyst to getting things done that people have been talking about for generations but couldn't find the money for, for whatever reason. So we built the whole plan around the idea of "what does New York mean for the 21st century?" We looked at entire areas, figuring if we could shine the Olympic spotlight on them by putting venues in them and building plans around them, we could use the Olympic deadlines, even for bidding, to get them passed and get them done. That could dramatically change the city. And in fact, it's pretty much worked out that way. The whole West Side of Manhattan, including Hudson Yards and the High Line. I had the High Line in my first Olympic presentation in 1996. We redid the waterfronts of Brooklyn and Queens, which were key locations for venues. In Downtown Brooklyn, the area we focused on ultimately became the Barclays Center. We looked at other areas around the city, like Flushing in Queens, Harlem, the South Bronx, and Coney Island, and developed plans for them. That's when I came into City Hall with Mike Bloomberg. We began to execute on the plan. 
As I mentioned earlier, that first thing that's necessary to get things done is a catalyst. The Olympics can, if done well, act as that catalyst, even if you don't end up winning the bid. We had most of these plans approved before we actually lost in 2005, and some were far enough along that they were pretty much irrevocable. So, again, this notion of a catalyst combined with a philosophy and a strategy and capacity to execute is what it really takes. 
Dan Doctoroff on the keys to inclusive urban planning
What you have to do is listen. I certainly got better at that in my six years in government. A city is like a product: you have customers, and you have to satisfy them if you want more customers. It's consistent with my theory of "growth is good" and the virtuous cycle. So listening is incredibly important. On the other hand, anyone who has built a successful product will tell you that if you simply listen to your customers, they're going to tell you more about their existing experience, instead of imagining what's actually possible. So it's listening, but also so deeply understanding the soul and the operation of the city that you can come up with something that elegantly gives  people the things they want, but never believed or never imagined they could have. And it's that combination of listening and in-depth understanding that produces really spectacular things. Those things can come from anywhere. They can come from citizens. They can come from government. They can come from philanthropy, academic institutions. We're trying to keep this city on the edge and keep it distinct. So what opened up a few months ago was Little Island. That was the vision of one person who finally got the cooperation of government. An extraordinary thing. I've been involved with The Shed, this new cultural institution on the West Side, which is, in many ways, the paradigmatic, post-pandemic cultural institution. It's incredibly adaptable. Our mission is to use arts and ideas to actually shed light on some of the important issues of our time. It's different. There's nothing like it anywhere in the world. That idea actually came from government. This is a city that inspires people and inspires them to do amazing things that improve other people's lives in lots of different ways. We just have to be organized to be able to achieve them. 
Dan Doctoroff on how cities can use technology to meet the challenges of the future
Right now, I think the smart city movement has been something of a disappointment. It's been led by consultants who want to basically sell systems to government. And in reality, we're at a historic moment where the potential to use technology to improve life across every aspect of the urban environment is right in front of us. It just needs a push both from the innovators and from the urbanists. The people who run government, the people who build buildings, the people who are interested in the cities themselves. Sidewalk Labs, our company, was founded to be a bridge to create more affordable, inclusive and sustainable cities, because a bridge is really what's needed. There are a lot of people trying to do the same in lots of different ways, but our model is to engage in place-making and work with developers. We work with cities to set ambitious goals and use innovation to achieve those goals. For example: how do you significantly increase the percentage of housing that's affordable? How can you meaningfully reduce the percentage of people who need a car without sacrificing convenience? How do you make a development climate-positive? How do you provide ubiquitous connectivity in an affordable way? How do you meaningfully improve health outcomes for the poorest and the sickest among us? Those are ambitious goals, and by setting those ambitious goals and trying to force ourselves to figure out how to address them often using innovative approaches, we come up with unique insights about the future of cities, the future of the urban condition, and urban life. Of those insights we build products and services that hopefully do improve quality of life in cities.
I'll give you one example of how innovation could really change. Early on at Sidewalk, about four years ago, we had an insight about how to care for the sickest and poorest in our communities and it really leveraged the idea that the social determinants of health – access to food and housing security, ability to get to appointments and have access to transportation – were just as important as medical care. So we decided to create a company that would combine social care and a new model for healthcare which included virtual care, in-home care and clinic-based care, all focused typically on Medicare and Medicaid patients. We recruited a team to run it. We started building a platform to connect all these potential providers, including the company we were creating. And in four years, that company has gone from two employees to over 1000. It's in five states now. From a valuation perspective it's gone from nothing to billions. But the most important thing is they are on their way to dramatically reducing healthcare costs and at the same time meaningfully improving outcomes. And it's all because, again, we were focused on a problem. We came up with an idea, we tried an idea, we brought in lots of partners along the way, and hopefully over time, it will have a significant impact. I think that potential exists across every dimension of quality of life, and we just have to be open enough and willing to try things in order to do it. 
Going forward, we still need to grow, and we need to do it in an inclusive way that benefits everybody. Pre-pandemic – and I think the pandemic has only made this more obvious – a lot of people have been left out of the growth that has been generated over the last 25 or so years. And in order to achieve that level of inclusive growth, we are going to have to innovate, and technology, carefully applied, can play a really important role in making that happen. So Sidewalk Labs is involved in a number of projects going forward and it's all about more sustainable, smart cities. 
Dan Doctoroff on Sidewalk Labs' sustainability plans
The vast majority of buildings in New York are old. By something like 95% of the buildings that will exist in New York City in 2040 are already in existence today. The average age of a building in Midtown is 70 years old. Old buildings don't have sophisticated building management systems. So we came up with a product called Mesa, which I think it's pretty amazing. It's a sensor kit that is powered by artificial intelligence, and it's easy to install in old office buildings. We believe it can reduce energy use, and therefore carbon emissions, by about 20% for very little investment up front. And it's a million things like that we're going to need to reduce carbon emissions to where they need to be in order for us to address the climate crisis. And if we don't address them in cities, we're hopeless, right? Because 75% of the people are going to live in cities, and we have barely begun to really address that. We have another company that we're very focused on, which is about producing a kit of parts to enable mass timber buildings –  buildings where the structure is made out of wood – to be produced efficiently. Because wood is a naturally carbon sequestering material, we think that you can basically lower the carbon impact of buildings by about 80%. And building materials represent 12% of carbon emissions globally. Now, again, we're just one company. We're doing a bunch of different things. There are lots of other people out there who are trying other things. And it's that ethos and attitude that's ultimately going to be necessary for us to get to where we need to get in terms of carbon emissions. Government has to play a role. Legislation can play a significant role in incentivizing the right kind of behavior. 
Dan Doctoroff's biggest worries about the future
One is climate change, which is an existential threat from many different perspectives. The second is inequality and the fact that increasingly we are pulling ourselves apart because we haven't addressed so many critical issues. But inequality, I think, sits at the root of it. Public health, obviously, as we've lived through the pandemic and the risk going forward. All of those represent threats, not just to a city like New York, but pretty much everywhere. And if we don't get our arms around these things, we will really have problems. And that's what scares me. The good news is that there are approaches to dealing with these things. We just need the will and sometimes the capital to make them happen. 
Dan Doctoroff's parting advice
We can't be afraid to take risks. To some extent, that's what leadership is all about. It's about understanding the problem, having a great sense for what people need, and acting ahead of the curve rather than behind the curve. And that involves taking risks. One of the things that I really respected about Mike Bloomberg is that in my six years in government, whenever we made a decision to do something, I cannot recall a single time when the question of his reelection prospects and that action's impact on his reelection came up. And we did lots of, I think, far-sighted things. That's not to say we got everything right, but that's courage. Effective leadership is about smart courage, and we need more of that. And by the way, that's not just true for political and governmental leaders. That's true in business. That's what entrepreneurs are all about: taking smart risks. And so when you ask, "what can we all do?" At the end of the day, we can try and take smart risks to push the ball forward in lots of different ways.